Flu Vaccine Education and Appointment Scheduling Instructions
Please review the following material before scheduling your appointment
Receiving your influenza vaccine this year will be more important than ever. During the COVID-19 pandemic, the influenza vaccine will be critical to reducing the overall burden of respiratory illness and protecting vulnerable populations, our healthcare system, and ARUP Laboratories important role in addressing the COVID-19 pandemic.
Flu Clinic dates will be September 30–October 3 and October 7–October 10.
What precautions are you taking this year for ARUP Flu Vaccine Clinics given the COVID-19 pandemic?
Patient health and safety is the top priority of our ARUP Health and Wellness Team. This year we have modified ARUP Flu Vaccine Clinic operations to ensure that you and your family can safely receive your influenza vaccine.
ARUP Flu Vaccine Clinics will provide influenza vaccine by scheduled appointment only.
Only bring individuals with a scheduled appointment.
Everyone over 2 years of age will need to wear a face mask.
Please leave all food, drinks, bags at home or at your workstation or locker.
Vaccines will be administered in large, open areas with limited opportunities for privacy. Please wear clothing (i.e. short sleeves) that is conducive to quickly receiving the vaccine in your upper arm without needing to undress.
Who should receive an influenza vaccine during the ARUP Flu Vaccine Clinics?
ARUP employees, spouses, and dependents aged 6 months or older are eligible to receive influenza vaccine during the ARUP Flu Vaccine Clinics.
We will be providing quadrivalent, inactivated influenza vaccine by intramuscular injection in the arm or thigh (as appropriate for children). This vaccine is safe and effective for all individuals 6 months of age or older, including pregnant, elderly, and immunocompromised individuals.
Who should not receive an influenza vaccine during the ARUP Flu Vaccine Clinics?
If you currently have a moderate to severe illness (i.e. Pneumonia), have any symptoms of COVID, have a positive or pending COVID test, or have recently been in close contact with an individual with COVID; you should not receive an influenza vaccine during the ARUP Flu Clinics.
Children younger than 6 months of age are too young to get influenza vaccine.
People with severe, life-threatening allergies to influenza vaccine or any ingredient in the vaccine should not receive the influenza vaccine.
Most people with egg allergy can safely receive influenza vaccine but should consult with a healthcare provider first. You may be asked to receive your vaccine during regular clinic operations in the Family Health Clinic when additional observation is available.
Some people with a history of Gullain-Barre Syndrome (a severe paralyzing illness) should not get influenza vaccine.
Where will the ARUP Flu Clinics be held?
This year, ARUP Flu Clinics will be held in the 560 building. You can park in the 565 Komas parking lots (south side of the building). Please do not park in the Donor Center parking. All other stalls are available. You will enter through the South East entrance (closest to the Wellness Center).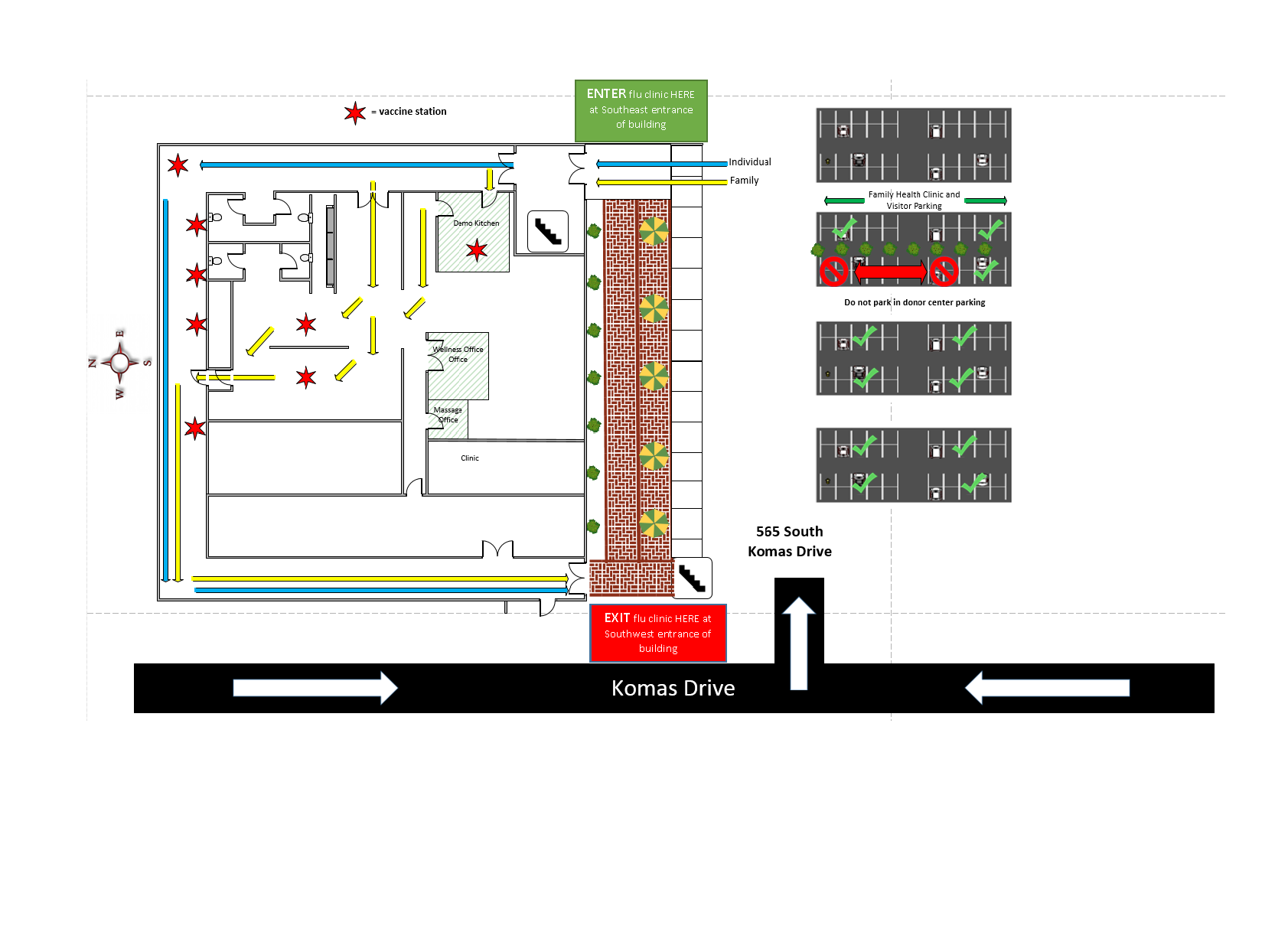 Patients should wait in their car or outside the building until their scheduled appointment time, at least six feet apart from others. At the scheduled time, proceed to the entrance and a Health & Wellness staff member will help check you in for your appointment. Please arrive on time as individuals that arrive late will not be accommodated. Staff will be onsite to help navigate you through the flu clinic stations. Please follow staff directions and additional signage to help us maintain physical distancing and efficient, unidirectional flow through the clinics.
How can I get documentation of receiving an influenza vaccine during the ARUP Flu Vaccine Clinics?
If you are an ARUP employee that works at the University of Utah, Transportation or Medical Directorship and are required to provide documentation of flu vaccination, we will provide documentation to the University of Utah on your behalf. For spouses, dependents, or individuals that need documentation for another employer or school; we will have documentation letters available during the check-in process at the clinic. Please ask our staff for a letter documenting that you received the flu vaccine during our clinics. Alternatively, your vaccine records are available within your chart at any time through the MyChart application.
Can the clinic staff address additional concerns during the ARUP Flu Vaccine Clinics?
All the health and wellness staff are excited to provide you with your influenza vaccine this year. However, please avoid asking health and wellness staff about other personal health concerns during the clinics to protect your health information. Limited clinic services focused on occupational and urgent health needs, including assisting with COVID inquiries, will be provided during the weeks of Monday, September 28, 2020 through Saturday, October 10, 2020 due to the ARUP Flu Vaccine Clinics. You can contact your healthcare provider through MyChart or call us at 801-584-5144 with questions and concerns.
When and how do I schedule an appointment during the ARUP Flu Vaccine Clinics?
You can view the dates and schedule your appointment online using Microsoft Bookings. We recommend that you use Chrome browser when scheduling. Please watch the following video which describes scheduling via Microsoft Bookings:
Individual adult patients (employee, spouse, or dependent 18 years of age or older) should register using the following links for INDIVIDUAL ADULT registration on a weekday or Saturday:
Two or more individuals in a family (including all minors) that wish to receive their flu vaccine together should register using the following links for FAMILY registration on a weekday or Saturday:
A legal guardian must accompany all minors (6 months through 17 years of age) to ARUP Flu Clinics to consent on behalf of the minor.
What if I have to cancel my appointment?
Cancel your appointment through the Bookings email you received when you registered. You will not be able to modify your appointment starting 48 hours prior to your scheduled time.