Together we get better results™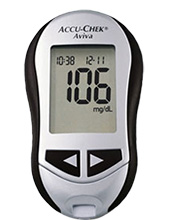 The ARUP Family Health Clinic is pleased to announce a new program for 2013 focused on improving the health of our diabetic patients. Restat and the ARUP Family Health Clinic are working together to provide you with the opportunity to receive free diabetes testing supplies. After visiting with a provider in the clinic, you will receive the following supplies: blood sugar monitor, test strips, lancet device, lancets, carrying case, and user's manual.
No-cost generic diabetes medications and insulin:
Starting January 1, 2013, all generic diabetes medications and insulin prescriptions will be available at Align network pharmacies for no co-pay. To locate Align network pharmacies near your home, visit the Restat website and search within the pharmacy locator.
No-cost blood sugar testing supplies:
The following diabetes testing supplies will be available at no-cost in the ARUP Family Health Clinic following your visit with a provider:

ACCU-CHEK Aviva glucometer and test strips
ACCU-CHEK Softclix lancing device and lancets
Diabetic Patient Expectations
Select a primary care provider in the clinic.
Come in for ongoing comprehensive diabetes visits.
Patients will be seen in the ARUP Family Health Clinic by a primary care provider and/or our clinical pharmacist for a comprehensive diabetes visit at a minimum once every three months. During a visit, you and your provider will determine an appropriate plan for monitoring your blood sugar. Diabetes testing supplies will be provided at no cost during the clinic visit only. Do not wait until the last minute to schedule your next appointment.
Stick with it.
Your provider will help you decide when to check your blood sugar and how to use those values to improve your health. Follow the directions prescribed for testing your blood sugar. If you run out early, providers may not be able to provide you with extra supplies at no cost.
If you wish to take advantage of the new diabetes testing supply program, you can do so by contacting the
ARUP Family Health Clinic at (801) 584-5144
. The ARUP Family Health Clinic has a clinical pharmacist and medical providers ready to assist you if you have questions about blood sugar monitoring or medical supplies.