Archive: Out-of-State HDHP - 2020
ARUP
Medical
Plan

Open Access Plus, OA Plus, Choice Fund OA Plus

High Deductible Health Plan
Full-Time Premiums
(

Single/Two-Party/Family

)
$17/$37/$58
For HSA eligibility, employees on the HDHP plan will pay an additional $4 per month for access to the HealthJoy app.
ARUP Contribution to
Health Savings Account
$700 Individual/$1400 Family
Maximum Employee Contribution to
Health Savings Account
$2900 Individual/$5800 Family
Deductible
$2800 Individual/$5600 Family
Co-Payment
ER
$0
Co-Insurance
In-Network
85%/15%
Co-Insurance
Out-of-Network
65%/35%
Maximum
Out-of-Pocket
$4000/$8000
Plan Highlights
No virtual visits on this plan.
No emergency room co-pays.
$1000 accident benefit not applicable.
What is a Health Savings Account (HSA)?
An HSA is a personal savings account that can be used to pay for medical, dental, vision and other qualified expenses now or later in life. To contribute to an HSA you must be enrolled in a qualified high deductible health plan. Your contributions are tax deductible but are limited annually.
Since it is a savings account, you are encouraged to save more than you spend. Unlike FSA funds which are "use-it-or-lose-it," your HSA balance rolls over from year-to-year and earns interest along the way. The account is portable, which means that if you ever leave your employer, you can take the HSA with you. It's your money and your account.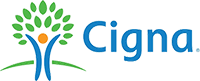 is our national network, with providers located throughout the United States. This network is available if you have selected the Medical 750 Plan, Medical 1500 Plan and the HDHP.
Cigna Network
2021

Full Time
30+ Hours/Week
Part Time
20-29 Hours/Week
HealthJoy App
Surcharge for Tobacco Use

High Deductible Health Plan (Cost per month)

Employee
$17
$54
+$4
+$60
Employee + 1 Child
$37
$109
+$4
+$60
Employee + Spouse
$37
$109
+$4
+$60
Employee + Children
$58
$167
+$4
+$60
Employee + Family
$58
$167
+$4
+$60
2021

COBRA

High Deductible Health Plan (Cost per month)

Employee
$402.90
Employee + 1 Child
$867
Employee + Spouse
$867
Employee + Children
$1,254.60
Employee + Family
$1,254.60
Resources