Immunohistochemistry Stains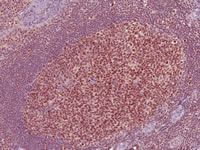 The ARUP Immunohistochemistry Laboratory performs more than 175 stains on formalin-fixed, paraffin-embedded tissues/cellblocks. These stains are used to detect the presence, abundance, and localization of specific proteins to aid in determining the direction of differentiation in neoplasms with similar morphology as well as to provide prognostic or therapeutic information, among other applications.
This lab is pathologist oriented, providing a stain and return service only, without interpretation, to our client pathologists to assist in their diagnostic studies. Most stains are returned the next day. The available stains are listed under the Stain and Return Immunohistochemistry tab. If interpretation is needed, please order a consultation.
To order a surgical pathology consultation, please use test code
2013263 Consultation, Surgical Pathology
or
2013258 Consultation, Hematopathology
. For more information, call (801)581-2507. Please include pertinent clinical history and surgical pathology report.
The Immunohistochemistry Laboratory has a menu of immunohistochemistry tests for which we will provide interpretation by one of our ARUP faculty pathologists. A list of these tests can be found under the Immunohistochemistry Tests tab. The ARUP Immunohistochemistry Laboratory is an NSABP-approved laboratory for the testing of breast markers.