Immunohistochemistry Stains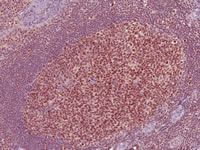 The ARUP Immunohistochemistry Laboratory performs more than 175 stains on formalin-fixed, paraffin-embedded tissues/cellblocks. These stains are used to detect the presence, abundance, and localization of specific proteins to aid in determining the direction of differentiation in neoplasms with similar morphology as well as to provide prognostic or therapeutic information, among other applications.
This lab is pathologist oriented, providing a stain and return service only, without interpretation, to our client pathologists to assist in their diagnostic studies. Most stains are returned the next day. The available stains are listed under the Stain and Return Immunohistochemistry tab. If interpretation is needed, please order a consultation.
To order a surgical pathology consultation, please use test code
2013263 Consultation, Surgical Pathology
or
2013258 Consultation, Hematopathology
. For more information, call (801)581-2507. Please include pertinent clinical history and surgical pathology report.
The Immunohistochemistry Laboratory has a menu of immunohistochemistry tests for which we will provide interpretation by one of our ARUP faculty pathologists. A list of these tests can be found under the Immunohistochemistry Tests tab. The ARUP Immunohistochemistry Laboratory is an NSABP-approved laboratory for the testing of breast markers.
Test #
Test Name
Test Keywords
Test Description
2003430
Adenovirus by Immunohistochemistry
Adenovirus

Specific to all subtypes of adenovirus

2003427
Adrenocorticotropic Hormone (ACTH) by Immunohistochemistry
Acromegaly, Cushing Syndrome, Hypopituitarism, Tumor Markers, Endocrine/Adrenal Cancer, Lung Cancer, Pituitary Cancer, thymoma, medullary thyroid carcinoma
Adrenocorticotropic hormone:

Subclassifies pituitary adenomas

2003433
Pan Cytokeratin (AE1,3) by Immunohistochemistry
Glucagonoma, Somatostatinoma, VIPoma, Gastrinoma, Pancreatic Neuroendocrine Tumors (NET), Mesothelioma, Testicular Cancer, Tumor Markers, Synovial Sarcoma, Epithelial Sarcoma, Carcinoma, Adenocarcinoma, Tumor Markers, AE1,3

Cytokeratin antibody cocktail for acidic and basic cytokeratins

2003418
Alpha-1-Antichymotrypsin (A1ACT) by Immunohistochemistry
Pancreatic Acinar Carcinoma, Alpha-1 Antitrypsin Deficiency, Tumor Markers
Alpha 1 ACT:

Aids in identifying hepatomas and some germ cell neoplasms
Histiocyte marker for normal/neoplastic tissue

2003424
Alpha-1-Antitrypsin (AAT) by Immunohistochemistry
Alpha-1-Antitrypsin Deficiency (AAT), Hemochromatosis
Alpha 1 AT:

Expressed by cells of histolytic origin
Aids in identifying germ cell and histolytic neoplasms, as well as embryonal and some lung carcinomas

2003436
Alpha-1-Fetoprotein (AFP) by Immunohistochemistry
Testicular Germ Cell tumor, Ovarian Germ Cell Tumor, Brain Tumors, Tumor Markers

Expressed by neoplastic liver and gonad tissue
Aids in identifying bladder carcinomas, yolk sac tumors, some germ cell tumors and a high proportion of hepatocellular carcinoma

2003419
Alpha-Synuclein by Immunohistochemistry
aSynuclien (SNCA):

Demonstrates Lewy bodies in brain cells associated with Parkinson's and Alzheimer's.

2003439
Anaplastic Lymphoma Kinase 1 (ALK-1) by Immunohistochemistry
Sarcoma, T/NK-Cell Lymphomas, B-Cell Lymphomas, Tumor Markers, Non-small cell carcinoma, lung, malignant rhabdoid tumor
Anaplastic lymphoma kinase 1:

Reacts with the NPM-ALK fusion protein expressed by t(2;5) positive anaplastic large cell lymphomas

2011890
Arginase 1 by Immunohistochemistry

Aides in the distinction of HCC from other hepatocellular and non-hepatocellular mass lesions, as well as in cases of metastatic carcinoma and other benign and malignant nonhepatocellular mimics

2014499
ATRX by Immunohistochemistry
Prostate Cancer, prostate epithelium, breast, ductal epithelium, gastric mucosa, glial cells

Expression of ATRX is implicated in cancer pathogenesis and is useful in the diagnosis of astrocytic gliomas. Its specificity and prevalence in lower-grade gliomas with an IDH-mutation argue for thorough characterization of associated signaling networks to facilitate therapeutic development.
Mutation or loss of alpha-thalassemia/mental retardation syndrome X-linked (ATRX) expression has been described in anaplastic gliomas. ATRX loss is a hallmark of astrocytic tumors and defines a subgroup of astrocytic tumors with a favorable prognosis.