Renal Pathology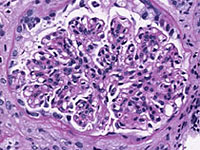 Renal Pathology provides comprehensive consultative expertise and services relating to disorders of the kidneys, including native and transplant renal biopsies (for both adults and children).
For information concerning consultation, please call (801) 581-2507. Surgical Pathology consultations can be electronically ordered using test code
2013263
and sent to the below address:
Surgical Pathology Department
Huntsman Cancer Institute
2000 Circle of Hope, RM 1300
Salt Lake City, UT 84112
Phone: (801) 581-2507
Fax: (801) 581-7035
Please include pertinent clinical history, surgical pathology report(s) and complete case materials.
Test #
Test Name
Test Keywords
Additional Information
0051786
Alport Syndrome, X-linked (COL4A5) Sequencing
ALPORT FGS Renal disease, chronic kidney disease, hematuria
2002398
Alport Syndrome, X-linked (COL4A5) Sequencing and Deletion/Duplication
ALPORT FGA Renal disease, chronic kidney disease, hematuria
2003839
Collagen IV by Immunohistochemistry
Alport Syndrome Renal disease, chronic kidney disease, hematuria, alport
Stain and return service only
2013259
Comprehensive Kidney Biopsy Workup

Staining protocols for renal biopsies include:

Light microscopy: H&E, PAS, trichrome stain, and Jones silver stain, Congo red stain performed if indicated
Immunofluorescence: IgG, IgA, IgM, C1q, C3, albumin, fibrinogen, kappa and lambda, and C4d (transplant)
Electron microscopy: routinely performed

Collagen IV Panel (alpha chains I, III, and IV) by immunofluoresence also available by request.

0049191
Glomerular Basement Membrane Antibody, IgG (IFA)
Anti-GBM Disease
2008403
Glomerular Basement Membrane Antibody, IgG by Multiplex Bead Assay and IFA
Microscopic Polyangiitis, Anti-GBM Disease
2010214
Hereditary Renal Cancer Panel, Sequencing and Deletion/Duplication
RENCAPAN, RENCAPAN, renal, cancer, BAP1, FH, FLCN, MET, MLH1, MSH2, MSH6, PTEN, SDHB, SDHC, SDHD, TP53, TSC1, TSC2, VHL, leiomyomatosis, Mesothelioma, birt-hogg-dube, HNPCC, lynch, Cowden, Bannayan-Riley-Ruvalcaba, Proteus, Li-Fraumeni, Tuberous sclerosis, Von Hippel BAP1, FH, FLCN, MET, MLH1, MSH2, MSH6, PTEN, SDHB, SDHC, SDHD, TP53, TSC1, TSC2, VHL, Birt-Hogg-Dube, leiomyomatosis, mesothelioma, tuberous sclerosis (TS), von Hippel-Lindau
2007991
Solid Tumor Mutation Panel by Next Generation Sequencing
Additional Technical Information