Pulmonary Pathology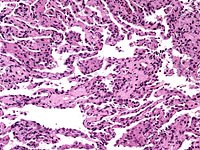 Pulmonary Pathology provides comprehensive consultative expertise and services relating to disorders of the lung and the mediastinum. A variety of specialized molecular tests are routinely available.
For information concerning consultation, please call (801) 581-2507. Consultations can be sent directly to:
Surgical Pathology Department
Huntsman Cancer Hospital
1950 Circle of Hope, RM N3105
Salt Lake City, UT 84112
Phone: (801) 581-2507 or (801) 584-5078
Fax: (801) 581-7035
Please include pertinent clinical history and surgical pathology report(s).
Test #
Test Name
Test Keywords
Additional Information
2003433
Pan Cytokeratin (AE1,3) by Immunohistochemistry
Glucagonoma, Somatostatinoma, VIPoma, Gastrinoma, Pancreatic Neuroendocrine Tumors (NET), Mesothelioma, Testicular Cancer, Tumor Markers, Synovial Sarcoma, Epithelial Sarcoma, Carcinoma, Adenocarcinoma, Tumor Markers, AE1,3
Stain and return service only
2011431
ALK (D5F3) by Immunohistochemistry with Reflex to ALK Gene Rearrangements by FISH
2007324
ALK (D5F3) with Interpretation by Immunohistochemistry
ALKD5F3 IP
Additional Technical Information
2006102
ALK Gene Rearrangements in NSCLC for Crizotinib Eligibility by FISH
ALK GENE, Lung cancer, pharmcogenetics, pulmonary cancer
2003463
Anti-Human Epithelial Antigen, Ber-EP4 by Immunohistochemistry
Mesothelioma, Lung Cancer, mammary Paget disease, lung adenocarcinomas, trichoepitheliomas, dermatofibromas, basal cell carcinoma, Lung cancer, mesothelioma
Stain and return service only
2003445
Breast Carcinoma b72.3 by Immunohistochemistry
Mesothelioma, Lung Cancer, Tumor Markers, Adenocarcinoma, Breast carcinoma
Stain and return service only
2008652
c-MET by Immunohistochemistry
2003490
Calretinin by Immunohistochemistry
Mesothelioma, Ovarian Cancer, Tumor Markers
Stain and return service only
2003824
Carcinoembryonic Antigen, Monoclonal (CEA M) by Immunohistochemistry
Mesothelioma, Ovarian Cancer, Colorectal Cancer, Tumor Markers, Cervical Cancer
Stain and return service only
2003827
Carcinoembryonic Antigen, Polyclonal (CEA P) by Immunohistochemistry
Hepatocellular Carcinoma, canallicular marker, Pancreatic Cancer, Ovarian Cancer, Lung Cancer, Colorectal Cancer, Tumor Markers
Stain and return service only
2003529
CD15, Leu M1 by Immunohistochemistry
Hodgkin Lymphoma, Acute Myelogenous Leukemia, Mesothelioma
Stain and return service only
2003589
CD56 (NCAM) by Immunohistochemistry
Brain Tumors, Sarcoma , Rhabdomyosarcomas, T/NK-Cell Lymphomas, Plasma Cell Dyscrasias, Tumor Markers, Lung Cancer
Stain and return service only
2003821
CDX2 by Immunohistochemistry
Intestinal-type sinonasal adenocarcinoma, Colorectal Cancer, Tumor Markers, Lung Cancer
Stain and return service only
2003830
Chromogranin A by Immunohistochemistry
Neuroendocrine Tumors (NET), Carcinoid Tumors, Medullary Thyroid Cancer, Tumor Markers, Paraganglioma, Carotid body tumor, Olfactory neuroblastoma, pituitary adenomas, islet cell tumors, phaeochromocytomas, medullary thyroid carcinomas, Merkel cell tumors, and carcinoids
Stain and return service only
0081344
Cytokeratin 19 Fragment (CYFRA 21-1), Serum
Head and Neck Cancer, Lung Cancer, Prognosis, lung cancer, non-small cell lung carcinoma
Additional Technical Information
2003848
Cytokeratin 20 (CK 20) by Immunohistochemistry
Tumor Markers, Bladder Cancer, Hereditary Nonpolyposis Colorectal Cancer, HNPCC, Lung Cancer, Colorectal Cancer, Multiple Carcinomas , Merkel Cell, adenomas, gallbladder, bile duct, gastrointestinal adenocarcinoma, ductal cell adenocarcinomas of the pancreas, mucinous ovarian tumors, transitional cell carcinoma, Pancreatic carcinoma, cholangiocarcinoma, Mesothelioma
Stain and return service only
2003851
Cytokeratin 5,6 (CK 5,6) by Immunohistochemistry
Mesothelioma, Bladder Cancer, Prostate Cancer (PSA), Lung Cancer, Tumor Markers
Stain and return service only
2003854
Cytokeratin 7 (CK 7) by Immunohistochemistry
Gastrinoma, Mesothelioma, Bladder Cancer, Ovarian Cancer, Lung Cancer, Tumor Markers, Multiple Carcinomas, Breast Cancer
Stain and return service only
2000623
Cytology, Non-Gynecologic
2003857
D2-40 by Immunohistochemistry
Mesothelioma, Brain Tumors
Stain and return service only
2003869
E-Cadherin by Immunohistochemistry
Mesothelioma, Breast Cancer, Tumor Markers
Stain and return service only
2008605
EGFR by FISH
EGFRFISH, Head and Neck Cancer, Lung Cancer, Brain Tumors
Additional Technical Information
2002440
EGFR Mutation Detection by Pyrosequencing
Lung Cancer
Additional Technical Information
2012868
EGFR T790M Mutation Detection in Circulating Cell-Free DNA by Digital Droplet PCR
2003875
Epithelial-related Antigen, MOC-31 by Immunohistochemistry
Mesothelioma, Head and Neck Cancer, Lung Cancer adenocarcinomas, squamous cell carcinomas, adenomas, small cell lung cancers, carcinoids, adenocystic carcinomas, and carcinosarcomas
Stain and return service only
2003914
HBME-1 (Mesothelial Cell) by Immunohistochemistry
Mesothelioma, Thyroid Cancer
Stain and return service only
2003978
Keratin 903 (K903) High Molecular Weight by Immunohistochemistry
Mesothelioma, Bladder Cancer, Prostate Cancer, Breast Cancer
Stain and return service only
0040248
KRAS Mutation Detection
Pharmacogenetics (PGx), Lung Cancer, Colorectal Cancer, Tumor Markers, CRC, colon, rectal
Additional Technical Information
2008894
Lung Cancer Panel
Panel consist of EFGR, ALK, ROS1, if ROS1 equivocal reflex to ROS1 FISH
Additional Technical Information
2008895
Lung Cancer Panel with KRAS
Panel consist of EFGR, KRAS, ALK, ROS1, if ROS1 equivocal reflex to ROS1 FISH
Additional Technical Information
2008716
Napsin A by Immunohistochemistry
Stain and return service only
2004049
Neurofilament by Immunohistochemistry
Tumor Markers
Stain and return service only
2004052
Neuron Specific Enolase, Polyclonal (NSE P) by Immunohistochemistry
Neuroendocrine Marker, neuronal or neuroendocrine cells and their tumors: neuroblastomas and retinoblastomas
Stain and return service only
0098198
Neuron Specific Enolase, Serum
Brain Cancer, Gastrointestinal Cancer, Head and Neck Cancer, Lung Cancer, Tumor Markers, Monitoring
2004522
p53 by Immunohistochemistry
Tumor marker, Non-small cell lung cancer, lung cancer
Stain and return service only
0049250
p53 with Interpretation by Immunohistochemistry
Brain Tumors, Head and Neck Cancer, Chronic Lymphocytic Leukemia (CLL), Bladder Cancer, Ovarian Cancer, Hereditary Nonpolyposis Colorectal Cancer (HNPCC), Breast Cancer, Colorectal Cancer, Tumor Markers, Tumor suppressor protein, prognostic indicator, Non-small cell lung cancer, lung cancer
2004073
p63 by Immunohistochemistry
Bladder Cancer, Lung cancer, small cell lung cancer, neuroendrocrine
Stain and return service only
2013284
PD-L1 22C3 pharmaDx by Immunohistochemistry with Interpretation, pembrolizumab (KEYTRUDA)
2013684
PD-L1 28-8 pharmDx by Immunohistochemistry with Interpretation, nivolumab (OPDIVO)
2012654
RET Gene Rearrangements by FISH
2008418
ROS1 by FISH
Additional Technical Information
2008414
ROS1 with Interpretation by Immunohistochemistry with Reflex to FISH if Equivocal or Positive
Additional Technical Information
2007991
Solid Tumor Mutation Panel by Next Generation Sequencing
Additional Technical Information
0081284
Soluble Mesothelin Related peptides (MESOMARK®), Serum
Lung Cancer, Mesothelioma, monitoring, Tumor Markers
2004166
Thyroid Transcription Factor (TTF-1) by Immunohistochemistry
Thyroid Cancer, Lung Cancer, Tumor Markers, sarcoma, mesothelioma, neuroendrocrine
Stain and return service only
2004181
Vimentin by Immunohistochemistry
Melanoma, Ovarian Cancer, Sarcoma, schwannoma, Endometrial Cancer, mesothelioma
Stain and return service only
2004184
Wilms Tumor (WT1), N-terminus by Immunohistochemistry
AML, Mesothelioma, Ovarian Cancer, desmoplastic round-cell tumor
Stain and return service only