Neuropathology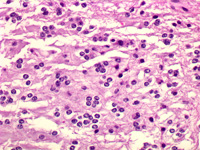 Neuropathology provides specialized tests and consultative services for diagnosis of various neurologic disorders affecting the central and peripheral nervous system in adult and pediatric patients. This division provides a full range of clinical neuropathology consultation services, including evaluation of brain biopsies, muscle and nerve biopsies, and autopsy brain specimens. The Neuropathology Division includes board-certified neuropathologists who have vast experience and expertise in diagnostic neuropathology, including neuroncology, neuromuscular disease, neurodegenerative disease, and surgical and autopsy neuropathology. This division provides all consultative services, which can be complemented by special stains, immunohistochemistry, molecular analyses, and electron microscopic studies as indicated.
For information concerning consultation, please call (801) 581-2507. Surgical Pathology consultations can be electronically ordered using test code
2013263
and sent to the below address:
Surgical Pathology Department
Huntsman Cancer Institute
2000 Circle of Hope, RM 1300
Salt Lake City, UT 84112
Phone: (801) 581-2507
Fax: (801) 581-7035
Please include pertinent clinical history, surgical pathology report(s) and complete case materials.
Test #
Test Name
Test Keywords
Additional Information
Consultation, Muscle/Nerve Pathology Special Study

Dystrophin Panel performed on fresh/frozen muscle biopsies:

Dystrophin
Merosin
Alpha-Sarcoglycan
Dysferlin
Utrophin
Spectrin
Dystrophin Rod Domain
Dystrophin Amino
Laminin

Available upon request.

3001309
1p/19q Deletion by FISH
1p19q, Oncology, Paraffin, Brain Tumors, Tumor
Additional Technical Information
2003436
Alpha-1-Fetoprotein (AFP) by Immunohistochemistry
Testicular Germ Cell tumor, Ovarian Germ Cell Tumor, Brain Tumors, Tumor Markers
Stain and return service only
2003806
CD117 (c-Kit) by Immunohistochemistry
Gastrointestinal Stromal Tumors (GIST), Lung Cancer, Breast Cancer, Melanoma, Mast Cell Disease, Germ Cell Tumor of Testes and Ovary, Brain Tumors, Myelodysplastic Syndromes, Acute Myeloid Leukemia, (AML), Myeloproliferative Neoplasms (MPN), Tumor Markers
Additional Technical Information
Stain and return service only
2003589
CD56 (NCAM) by Immunohistochemistry
Brain Tumors, Sarcoma , Rhabdomyosarcomas, T/NK-Cell Lymphomas, Plasma Cell Dyscrasias, Tumor Markers, Lung Cancer
Stain and return service only
2003830
Chromogranin A by Immunohistochemistry
Neuroendocrine Tumors (NET), Carcinoid Tumors, Medullary Thyroid Cancer, Tumor Markers, Paraganglioma, Carotid body tumor, Olfactory neuroblastoma, pituitary adenomas, islet cell tumors, phaeochromocytomas, medullary thyroid carcinomas, Merkel cell tumors, and carcinoids
Stain and return service only
2013261
Comprehensive Nerve Biopsy Workup
2003493
Cytokeratin 8,18 Low Molecular Weight (CAM 5.2) by Immunohistochemistry
Carcinoid Tumors, Hepatocellular Carcinoma, Renal Cell, Rhabdoid tumors, Neuroendocrine, Pancreatic Cancer, Pheochromocytoma, Melanoma, Tumor Markers, Multiple Carcinomas, Colon Cancer, Gastrointestinal Cancer
Stain and return service only
2000623
Cytology, Non-Gynecologic
2003857
D2-40 by Immunohistochemistry
Mesothelioma, Brain Tumors
Stain and return service only
3001310
EGFR Gene Amplification by FISH
EGFRFISH, Head and Neck Cancer, Lung Cancer, Brain Tumors
Additional Technical Information
0051033
Ganglioside (Asialo-GM1, GM1, GM2, GD1a, GD1b, and GQ1b) Antibodies
0050591
Ganglioside (GM1) Antibodies, IgG and IgM
2004998
Ganglioside (GM1, GD1b, and GQ1b) Antibodies, IgG and IgM
2003899
Glial Fibrillary Acidic Protein (GFAP) by Immunohistochemistry
Gastrointestinal Stromal Tumors (GIST), Brain Tumors
Stain and return service only
2012032
Hereditary Cancer Panel, Sequencing and Deletion/Duplication
CANCERPAN, Lynch syndrome, breast cancer, multiple endocrine neoplasia, melanoma, retinoblastoma, paraganglioma, Li-Fraumeni, familial adenomatous polyposis, Peutz-Jegher, HNPCC, inherited cancer, renal cancer, GI cancer, colorectal cancer, NGS cancer panel
2003920
Human Chorionic Gonadotropin (Beta-hCG) by Immunohistochemistry
Trophoblastic, germ cell, lung, melanoma, gastrointestinal, ovarian, testicular cancer
Stain and return service only
2006444
IDH1 and IDH2 Mutation Analysis, exon 4
Gliomas, cytogenically normal AML cases
Additional Technical Information
2007357
IDH1 R132H Point Mutation with Interpretation by Immunohistochemistry
IDH1 IP
Additional Technical Information
2005857
IDH1R132H Mutation by Immunohistochemistry
Glial tumors, astrocytomas , oligodendrogliomas, glioblastomas
Additional Technical Information
Stain and return service only
2003969
Inhibin by Immunohistochemistry
Brain Tumors, Ovarian Cancer
Stain and return service only
2004519
Ki-67, MIB1, by Immunohistochemistry
B-cell Lymphomas, T-Cell Lymphomas, Tumor marker, astrocytoma
Stain and return service only
2009310
MGMT Methylation Detection by PCR
2007967
Motor and Sensory Neuropathy Evaluation with Immunofixation Electrophoresis and Reflex to Titer and Neuronal Immunoblot
2007966
Motor and Sensory Neuropathy Evaluation with Reflex to Titer and Neuronal Immunoblot
0051225
Motor Neuropathy Panel
2007227
MYCN (N-MYC) Gene Amplification by FISH
NMYC, Neuroblastoma, Tumor Markers
Additional Technical Information
2004412
Myelin Associated Glycoprotein (MAG) Antibodies, IgM and Sulfate-3-Glucuronyl Paragloboside (SGPG) Antibodies, IgM
0051285
Myelin Associated Glycoprotein (MAG) Antibody, IgM
2004052
Neuron Specific Enolase, Polyclonal (NSE P) by Immunohistochemistry
Neuroendocrine Marker, neuronal or neuroendocrine cells and their tumors: neuroblastomas and retinoblastomas
Stain and return service only
0098198
Neuron Specific Enolase, Serum
Brain Cancer, Gastrointestinal Cancer, Head and Neck Cancer, Lung Cancer, Tumor Markers, Monitoring
2004046
Neuronal Nuclei (NeuN) by Immunohistochemistry
Stain and return service only
2004522
p53 by Immunohistochemistry
Tumor marker, Non-small cell lung cancer, lung cancer
Stain and return service only
2004097
Placental Alkaline Phosphatase (PLAP) by Immunohistochemistry
Testicular Cancer, Brain Tumors, Tumor Markers, Ovarian Cancer
Stain and return service only
2004127
S-100 Protein by Immunohistochemistry
Melanoma, Tumor Markers
Stain and return service only
2007965
Sensory Neuropathy Antibody Panel with Reflex to Titer and Neuronal Western Blot
2007991
Solid Tumor Mutation Panel by Next Generation Sequencing
Additional Technical Information
0051284
Sulfate-3-Glucuronyl Paragloboside (SGPG) Antibody, IgM
2004139
Synaptophysin by Immunohistochemistry
Neuroendocrine Marker, Glucagonoma, Somatostatinoma, VIPoma, Insulinoma, Ewing Sarcoma, Gastrinoma, Pancreatic Neuroendocrine Tumors (NET), Carcinoid Tumors, Brain Tumors, Pancreatic Cancer, Pheochromocytoma, Lung Cancer, Tumor Markers
Stain and return service only