Hematopathology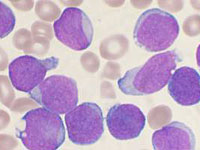 The Hematopathology Laboratory and the Division of Hematopathology offers diagnostic consultative services and a comprehensive testing menu for the evaluation of hematologic disorders. The Division of Hematopathology consists of nationally and internationally known experts whose expertise spans many different subspecialties of hematopathology including flow cytometry, immunohistochemistry, cytogenetics, coagulation, and molecular diagnostics. An integrated approach is utilized to provide clients with services ranging from test interpretation and selection to a comprehensive histomorphologic diagnosis.
For information concerning consultation, please call (801) 581-5854. Consultations can be sent directly to:
ARUP Laboratories
Specimen Processing
500 Chipeta Way
Salt Lake City, Utah 84108
Phone: (801) 581-5854
Fax: 801-585-3831
Please include pertinent clinical history and  surgical pathology/Hematopathology and flow cytometry report(s).
Test #
Test Name
Test Keywords
Additional Information
2013258
Consultation, Hematopathology
Kidney biopsy, light microscopy, immunofluorescence, electron microscopy, Renal disease, chronic kidney disease, hematuria, Hematopathology, hematologic
2002647
Acute Lymphocytic Leukemia (ALL) Panel by FISH, Adult
FISH A ALL, B-Cell Lymphoma, MYC BCR-ABL1, MLL, IGH@, TCF3, E2A
2002719
Acute Lymphocytic Leukemia (ALL) Panel by FISH, Pediatric
FISH P ALL, Oncology, Bone Marrow , B-Cell Lymphoma, childhood, child, children, CEP4, CEP10, BCR-ABL1 MLL, ETV6-RUNX1, TEL-AML1
2002653
Acute Myelogenous Leukemia (AML) with Myelodysplastic Syndrome (MDS), or Therapy-Related AML, by FISH
F TAML MDS, Myelodysplastic syndrome, Acute Myeloid Leukemia, EGR1, D7S486, MLL
2011132
Acute Myelogenous Leukemia Panel by FISH
FISH AML P, Acute Myeloid Leukemia, AML, Myeloproliferative, MPD, PML-RARA, RUNX1T1-RUNX1, ETO-AML1, CBFB, MLL, RPN1/MECOM, EVI1, EGR1, D7S486, KMT2A
2012710
Aggressive B-Cell Lymphoma FISH Reflex, Tissue
0092099
B-Cell CD20 Expression
B-cell lymphomas, B-cell leukemias
2006193
B-Cell Clonality Screening (IgH and IgK) by PCR
B-Cell Lymphomas, B-cell Leukemias
Additional Technical Information
2008420
BCR-ABL1 Mutation Analysis by Next Generation Sequencing
Chronic Myelogenous Leukemia (CML), Acute Lymphoblastic Leukemia (ALL), Tumor Markers, NGS
Additional Technical Information
2005017
BCR-ABL1, Major (p210), Quantitative
Acute Lymphoblastic Leukemia (ALL), Chronic Myelogenous Leukemia (CML)
2005016
BCR-ABL1, Minor (p190), Quantitative
Acute Lymphoblastic Leukemia (ALL), Chronic Myelogenous Leukemia (CML)
2005010
BCR-ABL1, Qualitative with Reflex to BCR-ABL1 Quantitative
Chronic Myelogenous Leukemia (CML)
2007130
Bone Marrow, Chromosome Analysis with Reflex to Genomic Microarray
ALL, Bcell, B-cell, b cell, T-cell, Tcell, T Cell, B-ALL, CDKN2A/B, BTG1, IKZF1, EBF1, UPD 9p, Myelodysplastic, MDS, Myeloproliferative, MPD, 5q-; -7 or 7q-,+8; 20q-, LOH, UPD 7q, UPD 11q, UPD 17p, CLL, P53, Chronic lymphocytic leukemia
2007132
BRAF V600E Mutation Detection in Hairy Cell Leukemia by Real-Time PCR, Quantitative
Additional Technical Information
2010673
CALR (Calreticulin) Exon 9 Mutation Analysis by PCR
2011114
CBFB-MYH11 inv(16) Detection, Quantitative
Acute Myeloid Leukemia (AML), Tumor Markers
Additional Technical Information
2004247
CEBPA Mutation Detection
Acute Myelogenous Leukemia (AML)
Additional Technical Information
2002292
Chromosome Analysis, Bone Marrow
Acute Lymphoblastic Leukemia, Acute Myelogenous Leukemia, MDS, B-cell lymphomas, T-cell lymphomas
2002290
Chromosome Analysis, Leukemic Blood
Acute Lymphoblastic Leukemia, Acute Myelogenous Leukemia, MDS, B-cell lymphomas, T-cell lymphomas
2002295
Chromosome FISH, CLL Panel
FISH CLLP, Chronic Lymphocytic Leukemia, CLL, Lymphoma Phenotyping, B-Cell Lymphomas, Tumor Markers, ATM, D12Z3, D13S319, TP53, p53
2002298
Chromosome FISH, Interphase
Oncology, Bone Marrow, Ewing Sarcoma, Neuroblastoma, Myelodysplastic, MDS, Chronic Lymphocytic Leukemia (CLL), Sarcoma, Acute Lymphoblastic Leukemia (ALL), Chronic Myelogenous Leukemia (CML), Tumor Markers, Acute Myeloid Leukemia (AML), Myeloproliferative Neoplasms (MPN), Plasma Cell Dyscrasias, Lymphoma Phenotyping, B-Cell Lymphomas
Please specify which FISH probe you wish to order.

2010229
Cytogenomic Molecular Inversion Probe Array, Copy Number and Heterozygosity Assessment - Formalin-Fixed Paraffin-Embedded (FFPE) Tissue
FFPE ARRAY, array CGH; aCGH; Array Comparative Genomic Hybridization; Chromosomal Microarray; CMA;  CGH; Microarray; Single-nucleotide-polymorphism (SNP) array; Whole Genome Array; tumor; oncology, formalin-fixed, paraffin-embedded, FFPE; tissue
2006325
Cytogenomic SNP Microarray—Oncology
CMA ONC ALL, Bcell, B-cell, b cell, T-cell, Tcell, T Cell, B-ALL, CDKN2A/B, BTG1, IKZF1, EBF1, UPD 9p, Myelodysplastic, MDS, Myeloproliferative, MPD, 5q-; -7 or 7q-,+8; 20q-, LOH, UPD 7q, UPD 11q, UPD 17p, CLL, P53, Chronic lymphocytic leukemia
Additional Technical Information
2010696
EIF2AK4-Associated Disorders (EIF2AK4) Sequencing
2002378
Eosinophilia Panel by FISH
FISH EOS P, Mast Cell Disease, Eosinophilic Diseases, Acute Myeloid Leukemia (AML), Myeloproliferative Neoplasms (MPN), PDGFRA-CHIC2-FIP1L1, PDGFRB, FGFR1, CBFB
2002902
Epstein-Barr Virus (EBV) by in situ Hybridization, Paraffin
Epstein-Barr Virus (EBV), Nasopharyngeal carcinoma, NK/ T-cell lymphomas, B-cell lymphomas, Post transplant lymphoproliferative disorders, Tumor Markers, ISH, Nasopharyngeal nonkeratinizing undifferentiated carcinoma, Nasal type NK/T-cell lymphoma
0049050
Esterase Stain, Nonspecific
Acute Myeloid Leukemia (AML)
2002674
Gastrointestinal Stromal Tumor Mutation
Gastrointestinal Stromal Tumors (GIST)
Additional Technical Information
0049090
Heinz Body Stain
Unstable Hemoglobinopathies, Hemolytic Anemias
2006444
IDH1 and IDH2 Mutation Analysis, exon 4
Gliomas, cytogenically normal AML cases
Additional Technical Information
3001298
IGH-BCL2 Fusion, t(14;18) by FISH for Detection in Follicular Lymphoma
B-Cell Lymphomas, Follicular lymphoma, Diffuse large B-cell lymphoma, FISH
Additional Technical Information
3001306
IGH-CCND1 Fusion, t(11;14) by FISH
Mantle cell lymphoma, B-Cell Lymphomas, Plasma cell dyscrasias, Tumor Markers
Additional Technical Information
3001299
IGH-MYC Fusion t(8;14) by FISH
Burkitt lymphoma, B-Cell Lymphomas
Additional Technical Information
0040227
IGHV Mutation Analysis by Sequencing
Chronic Lymphocytic Leukemia (CLL), Lymphoma Phenotyping, B-Cell Lymphomas, Tumor Markers
Additional Technical Information
0049110
Iron Stain
Bone marrows, Blood smears
2002357
JAK2 Exon 12 Mutation Analysis by PCR
Myeloproliferative Neoplasms (MPN), Tumor Markers
Additional Technical Information
0051245
JAK2 Gene, V617F Mutation, Qualitative
Myeloproliferative Neoplasms (MPN), Tumor Markers
Additional Technical Information
2012084
JAK2 Gene, V617F Mutation, Qualitative with Reflex to CALR (Calreticulin) Exon 9 Mutation Analysis by PCR with Reflex to MPL codon 515 Mutation Detection by Pyrosequencing, Quantitative
2012085
JAK2 Gene, V617F Mutation, Qualitative with Reflex to JAK2 Exon 12 Mutation Analysis by PCR
0040168
JAK2 Gene, V617F Mutation, Quantitation
Myeloproliferative Neoplasms (MPN), Tumor Markers
Additional Technical Information
2002888
Kappa/Lambda Light Chain Panel by in situ Hybridization, Paraffin
Plasma cell dyscrasias, B-cell lymphomas, ISH
More ISH testing
2007182
Ki-67 with Interpretation by Immunohistochemistry
2002437
KIT Mutations in AML by Fragment Analysis and Sequencing
Acute Myeloid Leukemia (AML), C-KIT, CKIT
Additional Technical Information
2002695
KIT Mutations, Melanoma
Melanoma, Tumor Markers, C-KIT, CKIT
Additional Technical Information
2008003
Leukemia/Lymphoma Phenotyping by Flow Cytometry
Additional Technical Information
2007131
Leukemic Blood, Chromosome Analysis with Reflex to Genomic Microarray
0049000
Leukocyte Alkaline Phosphatase
Chronic Myelogenous Leukemia (CML), Hematologic Cancer
2014683
LeukoStrat CDx FLT3 Mutation Detection by PCR
Acute Myeloid Leukemia
Additional Technical Information
2002650
Lymphoma (Aggressive) Panel by FISH
FISH ALYMP, Lymphoma Phenotyping, B-Cell Lymphomas, Lymphoproliferative Disorders (LPD), BCL6, MYC, IGH@/BCL2
Additional Technical Information
0055655
Methylenetetrahydrofolate Reductase (MTHFR) 2 Mutations
MTHFR PCR, Thrombophilia, methotrexate sensitivity, cardiovascular, C677T, A1298C
2005545
MPL codon 515 Mutation Detection by Pyrosequencing, Quantitative
Myeloproliferative Neoplasms, MPN
Additional Technical Information
2002294
Multiple Myeloma Panel by FISH
FISH MMP, Plasma Cell Dyscrasias, CKS1B, ASS1, CCND1-IGH@, IGH@, PML, TP53, FGFR3-IGH@, IGH@-MAF
3001300
MYC (8q24) Gene Rearrangement by FISH
Burkitt lymphomas, B-Cell Lymphomas, Double Hit lymphomas, Tumor Markers
Additional Technical Information
2009318
MYD88 L265P Mutation Detection by PCR, Quantitative
Additional Technical Information
2002709
Myelodysplastic Syndrome (MDS) Panel by FISH
FISH MDS P, Myelodysplastic Syndrome (MDS), EGR1, D7S486, CEP8, D20S108
2011117
Myeloid Malignancies Mutation Panel by Next Generation Sequencing
Additional Technical Information
2012182
Myeloid Malignancies Somatic Mutation and Copy Number Analysis Panel
MYE CMANGS same as CMA ONC, MYE NGS
0049030
Myeloperoxidase Stain
Acute Myeloid Leukemia (AML), congenital deficiencies
2002360
Myeloproliferative Disorders Panel by FISH
FISH MPD P, Chronic Myelogenous Leukemia (CML), Myeloproliferative Neoplasms (MPN), PDGFRα-CHIC2-FIP1L1, PDGFRa-CHIC2-FIP1L1, PDGFRβ, FGFR1, ABL1-BCR
3000066
NPM1 Mutation Detection by RT-PCR, Quantitative
Acute Myeloid Leukemia (AML)
Additional Technical Information
2002257
Osmotic Fragility, Erythrocyte
Hemolytic Anemias
2005006
Paroxysmal Nocturnal Hemoglobinuria Panel, RBC and WBC
Additional Technical Information
2004366
Paroxysmal Nocturnal Hemoglobinuria, High Sensitivity, RBC
Paroxysmal Nocturnal Hemoglobinuria (PNH)
Additional Technical Information
PNH testing with Flaer by flow cytometry may be a better test to evaluate for PNH
2005003
Paroxysmal Nocturnal Hemoglobinuria, WBC
Additional Technical Information
2002871
PML-RARA Translocation, t(15;17) by RT-PCR, Quantitative
Acute Myelogenous Leukemia (AML), Acute Promyelocytic Leukemia (APL)
Additional Technical Information
2002363
PML/RARα Translocation by FISH
FISH PML, Acute Myeloid Leukemia (AML), Acute Promyelocytic Leukemia (APL), Tumor Markers
2008460
RBC Band 3 Protein Reduction in Hereditary Spherocytosis
Additional Technical Information
2010138
RUNX1-RUNX1T1 (AML1-ETO) t(8;21) Detection, Quantitative
2006948
SDHB with Interpretation by Immunohistochemistry
0049180
Sezary Cell Exam
Sézary Syndrome, Mycosis Fungoides
2005984
Special Stain, Periodic Acid-Schiff (PAS)
0093199
T-Cell Clonality by Flow Cytometry Analysis of TCR V-Beta
0055567
T-Cell Clonality Screening by PCR
Hematologic Cancer, Sézary Syndrome, T-Cell Lymphomas, Lymphoma Phenotyping
0049060
Tartrate Resistant Acid Phosphatase Stain
Hairy cell leukemia