Head and Neck Pathology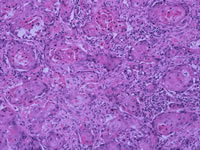 Head and Neck Pathology provides comprehensive consultative expertise and services relating to disorders of the head and neck regions, including salivary glands and nasal sinuses. A variety of specialized molecular tests are routinely available.
For information concerning consultation, please call (801) 581-2507. Surgical Pathology consultations can be electronically ordered using test code
2013263
and sent to the below address:
Surgical Pathology Department
Huntsman Cancer Institute
2000 Circle of Hope, RM 1300
Salt Lake City, UT 84112
Phone: (801) 581-2507
Fax: (801) 581-7035
Please include pertinent clinical history, surgical pathology report(s) and complete case materials.
| Test # | Test Name | Test Keywords | Additional Information |
| --- | --- | --- | --- |
| 2004513 | BCL-2 by Immunohistochemistry | Follicular lymphoma, Diffuse large B-cell lymphoma, B-Cell Lymphomas | Stain and return service only |
| 2002498 | BRAF codon 600 Mutation Detection by Pyrosequencing | Melanoma, Colorectal cancer, Lynch Syndrome, HNPCC, Hereditary Nonpolyposis Colorectal Cancer, Gastrointestinal Adenocarcinoma, Papillary thyroid carcinoma | |
| 2013921 | BRAF V600E Mutation Detection in Circulating Cell-Free DNA by Digital Droplet PCR | | |
| 2003481 | Calcitonin by Immunohistochemistry | Medullary Thyroid Cancer, Tumor Markers, Endocrine/Adrenal Cancer, Head and Neck Cancer, Thyroid medullary carcinomas | Stain and return service only |
| 2003598 | CD68, KP1 by Immunohistochemistry | Acute Myeloid Leukemia (AML), Monocytes, Histiocytes, Tumor Markers | Stain and return service only |
| 2003821 | CDX2 by Immunohistochemistry | Intestinal-type sinonasal adenocarcinoma, Colorectal Cancer, Tumor Markers, Lung Cancer | Stain and return service only |
| 2003830 | Chromogranin A by Immunohistochemistry | Neuroendocrine Tumors (NET), Carcinoid Tumors, Medullary Thyroid Cancer, Tumor Markers, Paraganglioma, Carotid body tumor, Olfactory neuroblastoma, pituitary adenomas, islet cell tumors, phaeochromocytomas, medullary thyroid carcinomas, Merkel cell tumors, and carcinoids | Stain and return service only |
| 2002298 | Chromosome FISH, Interphase | Oncology, Bone Marrow, Ewing Sarcoma, Neuroblastoma, Myelodysplastic, MDS, Chronic Lymphocytic Leukemia (CLL), Sarcoma, Acute Lymphoblastic Leukemia (ALL), Chronic Myelogenous Leukemia (CML), Tumor Markers, Acute Myeloid Leukemia (AML), Myeloproliferative Neoplasms (MPN), Plasma Cell Dyscrasias, Lymphoma Phenotyping, B-Cell Lymphomas | Please specify which FISH probe you wish to order. |
| 2013257 | Consultation, Head and Neck | | |
| 2010229 | Cytogenomic Molecular Inversion Probe Array, Copy Number and Heterozygosity Assessment - Formalin-Fixed Paraffin-Embedded (FFPE) Tissue | FFPE ARRAY, array CGH; aCGH; Array Comparative Genomic Hybridization; Chromosomal Microarray; CMA;  CGH; Microarray; Single-nucleotide-polymorphism (SNP) array; Whole Genome Array; tumor; oncology, formalin-fixed, paraffin-embedded, FFPE; tissue | |
| 2003845 | Cytokeratin 19 (CK 19) by Immunohistochemistry | Thyroid Cancer, Tumor Markers | Stain and return service only |
| 2003493 | Cytokeratin 8,18 Low Molecular Weight (CAM 5.2) by Immunohistochemistry | Carcinoid Tumors, Hepatocellular Carcinoma, Renal Cell, Rhabdoid tumors, Neuroendocrine, Pancreatic Cancer, Pheochromocytoma, Melanoma, Tumor Markers, Multiple Carcinomas, Colon Cancer, Gastrointestinal Cancer | Stain and return service only |
| 2000623 | Cytology, Non-Gynecologic | | |
| 3001310 | EGFR Gene Amplification by FISH | EGFRFISH, Head and Neck Cancer, Lung Cancer, Brain Tumors | Additional Technical Information |
| 2003875 | Epithelial-related Antigen, MOC-31 by Immunohistochemistry | Mesothelioma, Head and Neck Cancer, Lung Cancer adenocarcinomas, squamous cell carcinomas, adenomas, small cell lung cancers, carcinoids, adenocystic carcinomas, and carcinosarcomas | Stain and return service only |
| 2002902 | Epstein-Barr Virus (EBV) by in situ Hybridization, Paraffin | Epstein-Barr Virus (EBV), Nasopharyngeal carcinoma, NK/ T-cell lymphomas, B-cell lymphomas, Post transplant lymphoproliferative disorders, Tumor Markers, ISH, Nasopharyngeal nonkeratinizing undifferentiated carcinoma, Nasal type NK/T-cell lymphoma | |
| 0051352 | Epstein-Barr Virus, Quantitative PCR | | |
| 0049178 | ERBB2 (HercepTest®) by Immunohistochemistry, Tissue with Reflex to FISH if 2+ | Gastric, gastrointestinal cancer, tumor marker, pharmacogenetics, Breast Cancer, Tumor Markers, FISH, herceptin, HER2, HER-2, neu, HER2/neu, Pancreatic Cancer, Gastric Cancer, Barrett's Esophagus Cancer, Gastroesophageal Junction Cancer | |
| 2002899 | Human Papillomavirus (HPV) High Risk In Situ Hybridization, Paraffin | Gynecologic Cancer, ISH | |
| 2003448 | INI1 (BAF47) by Immunohistochemistry | Head and Neck Cancer, Sarcoma | Stain and return service only |
| 2004002 | Muc-1 by Immunohistochemistry | Glandular differentiation marker, Pancreatic, thyroid cancer, biliary, Salivary gland | Stain and return service only |
| 2004008 | Muc-4 by Immunohistochemistry | Colorectal Cancer, Tumor Markers, Pancreatic, thyroid, salivary gland, biliary | Stain and return service only |
| 0051390 | Multiple Endocrine Neoplasia Type 2 (MEN2), RET Gene Mutations by Sequencing | MEN2 SEQ, Thyroid Cancer, Pheochromocytoma, Multiple Endocrine Neoplasias (MEN), MEN 2A, MEN 2B, familial medullary thyroid carcinoma, FMTC, RET proto-oncogene | |
| 2004064 | p16 by Immunohistochemistry | Head and Neck Cancer, Cervical Cancer, Bladder Cancer, Ovarian Cancer, Hereditary Nonpolyposis Colorectal Cancer, HNPCC, Colorectal Cancer, Tumor Markers, Pancreatic Cancer, Melanoma, prognostic | Stain and return service only |
| 0049250 | p53 with Interpretation by Immunohistochemistry | Brain Tumors, Head and Neck Cancer, Chronic Lymphocytic Leukemia (CLL), Bladder Cancer, Ovarian Cancer, Hereditary Nonpolyposis Colorectal Cancer (HNPCC), Breast Cancer, Colorectal Cancer, Tumor Markers, Tumor suppressor protein, prognostic indicator, Non-small cell lung cancer, lung cancer | |
| 2004118 | Parathyroid Hormone (PTH) by Immunohistochemistry | Acromegaly, Parathyroid Cancer, Tumor Markers, adenomas and primary and secondary hyperplasias | Stain and return service only |
| 3001312 | RET Gene Rearrangements by FISH | | |
| 2006948 | SDHB with Interpretation by Immunohistochemistry | | |
| 2007991 | Solid Tumor Mutation Panel by Next Generation Sequencing | | Additional Technical Information |
| 0081054 | Squamous Cell Carcinoma Antigen, Serum | Gynecologic Cancer, Head and Neck Cancer, Lung Cancer | |
| 0050105 | Thyroglobulin Antibody | Thyroiditis, Thyroid Disease, Tumor Markers | |
| 2004145 | Thyroglobulin by Immunohistochemistry | Thyroid Cancer, Tumor Markers, Thyroid Disease | Stain and return service only |
| 2006550 | Thyroglobulin by LC-MS/MS, Serum or Plasma | Endocrine/Adrenal Cancer, Head and Neck Cancer | |
| 0020753 | Thyroglobulin, Fine Needle Aspiration (FNA) | Thyroid Cancer, Tumor Markers | |
| 2004166 | Thyroid Transcription Factor (TTF-1) by Immunohistochemistry | Thyroid Cancer, Lung Cancer, Tumor Markers, sarcoma, mesothelioma, neuroendrocrine | Stain and return service only |