Gynecologic Pathology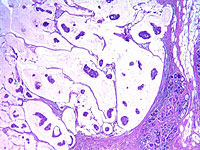 Gynecologic Pathology provides accurate and timely consultation of diagnostic and therapeutic biopsies. Specimens include the vulva, vagina, cervix, uterus, metastatic nodal disease, and fallopian tubes and ovaries. This service is offered for practicing pathologists desiring assistance with difficult cases, as well as for gynecologists and patients wanting a second opinion.
For information concerning consultation, please call (801) 581-2507. Consultations can be sent directly to:
Surgical Pathology Department
Huntsman Cancer Hospital
1950 Circle of Hope, RM N3105
Salt Lake City, UT 84112
Phone: (801) 581-2507 or (801) 584-5078
Fax: (801) 581-7035
Please include pertinent clinical history and surgical pathology report(s).
| Test # | Test Name | Test Keywords | Additional Information |
| --- | --- | --- | --- |
| 2003454 | Beta-Catenin-1 by Immunohistochemistry | Solid-pseudopapillary Neoplasm of Pancreas, Desmoid-type Fibromatosis, Ovarian Cancer, Tumor Markers, Stain and return service only type | Stain and return service only |
| 2003445 | Breast Carcinoma b72.3 by Immunohistochemistry | Mesothelioma, Lung Cancer, Tumor Markers, Adenocarcinoma, Breast carcinoma | Stain and return service only |
| 2003490 | Calretinin by Immunohistochemistry | Mesothelioma, Ovarian Cancer, Tumor Markers | Stain and return service only |
| 2012032 | Cancer Panel, Hereditary, Sequencing and Deletion/Duplication, 47 Genes | CANCERPAN, Lynch syndrome, breast cancer, multiple endocrine neoplasia, melanoma, retinoblastoma, paraganglioma, Li-Fraumeni, familial adenomatous polyposis, Peutz-Jegher, HNPCC, inherited cancer, renal cancer, GI cancer, colorectal cancer, NGS cancer panel | |
| 2003824 | Carcinoembryonic Antigen, Monoclonal (CEA M) by Immunohistochemistry | Mesothelioma, Ovarian Cancer, Colorectal Cancer, Tumor Markers, Cervical Cancer | Stain and return service only |
| 2003827 | Carcinoembryonic Antigen, Polyclonal (CEA P) by Immunohistochemistry | Hepatocellular Carcinoma, canallicular marker, Pancreatic Cancer, Ovarian Cancer, Lung Cancer, Colorectal Cancer, Tumor Markers | Stain and return service only |
| 2003821 | CDX2 by Immunohistochemistry | Intestinal-type sinonasal adenocarcinoma, Colorectal Cancer, Tumor Markers, Lung Cancer | Stain and return service only |
| 2010229 | Cytogenomic Molecular Inversion Probe Array, Copy Number and Heterozygosity Assessment - Formalin-Fixed Paraffin-Embedded (FFPE) Tissue | FFPE ARRAY, array CGH; aCGH; Array Comparative Genomic Hybridization; Chromosomal Microarray; CMA;  CGH; Microarray; Single-nucleotide-polymorphism (SNP) array; Whole Genome Array; tumor; oncology, formalin-fixed, paraffin-embedded, FFPE; tissue | |
| 2003848 | Cytokeratin 20 (CK 20) by Immunohistochemistry | Tumor Markers, Bladder Cancer, Hereditary Nonpolyposis Colorectal Cancer, HNPCC, Lung Cancer, Colorectal Cancer, Multiple Carcinomas , Merkel Cell, adenomas, gallbladder, bile duct, gastrointestinal adenocarcinoma, ductal cell adenocarcinomas of the pancreas, mucinous ovarian tumors, transitional cell carcinoma, Pancreatic carcinoma, cholangiocarcinoma, Mesothelioma | Stain and return service only |
| 2003854 | Cytokeratin 7 (CK 7) by Immunohistochemistry | Gastrinoma, Mesothelioma, Bladder Cancer, Ovarian Cancer, Lung Cancer, Tumor Markers, Multiple Carcinomas, Breast Cancer | Stain and return service only |
| 2000623 | Cytology, Non-Gynecologic | | |
| 2000134 | Cytology, SurePath Liquid-Based Pap | Cervical Cancer, Gynecologic Cancer | |
| 2000133 | Cytology, SurePath Liquid-Based Pap Test and Human Papillomavirus (HPV), High Risk by Hybrid Capture (for routine co-testing in women over 30) | | UUHSC Testing Only |
| 2000135 | Cytology, SurePath Liquid-Based Pap Test with Reflex to Human Papillomavirus (HPV) DNA Probe, High Risk | Human Papillomavirus (HPV), Cervical Cancer, Gynecologic Cancer | |
| 2000136 | Cytology, ThinPrep Pap Test and Human Papillomavirus (HPV), High Risk, E6/E7 mRNA by Transcription-Mediated Amplification (TMA) | | |
| 2000137 | Cytology, ThinPrep® Pap Test | Human Papillomavirus (HPV), Cervical Cancer, Gynecologic Cancer | |
| 2000138 | Cytology, ThinPrep® Pap Test with Reflex to Human Papillomavirus (HPV), High Risk, E6/E7 mRNA by Transcription-Mediated Amplification (TMA) | Human Papillomavirus (HPV), Cervical Cancer, Tumor Markers | |
| 2004516 | Estrogen Receptor (ER) by Immunohistochemistry | Ovarian Cancer, Breast Cancer, Tumor Markers | Stain and return service only |
| 2003935 | Melanoma Antibody, HMB45 by Immunohistochemistry | Melanoma, Tumor Markers, HMB45 | Stain and return service only |
| 2007894 | Human Papillomavirus (HPV) Genotypes 16 and 18/45, E6/E7 mRNA by Transcription-Mediated Amplification (TMA) | | |
| 2002899 | Human Papillomavirus (HPV) High Risk In Situ Hybridization, Paraffin | Gynecologic Cancer, ISH | |
| 2002896 | Human Papillomavirus (HPV) Low Risk by In Situ Hybridization, Paraffin | Gynecologic Cancer, ISH | |
| 2011942 | Human Papillomavirus (HPV), High Risk by PCR, SurePath | | |
| 2011947 | Human Papillomavirus (HPV), High Risk by PCR, ThinPrep | | |
| 2011933 | Human Papillomavirus (HPV), High Risk with 16 and 18 Genotype by PCR, SurePath | | |
| 2011940 | Human Papillomavirus (HPV), High Risk with 16 and 18 Genotype by PCR, ThinPrep | | |
| 2007893 | Human Papillomavirus (HPV), High Risk, E6/E7 mRNA by Transcription-Mediated Amplification (TMA) | | |
| 2007890 | Human Papillomavirus (HPV), High Risk, E6/E7 mRNA by Transcription-Mediated Amplification (TMA) with Reflex to Genotypes 16 and 18/45 | | |
| 2003938 | Human Placental Lactogen (HPL) by Immunohistochemistry | Gestational Trophoblastic Disease, Products of Conception | Stain and return service only |
| 2003969 | Inhibin by Immunohistochemistry | Brain Tumors, Ovarian Cancer | Stain and return service only |
| 0040248 | KRAS Mutation Detection | Pharmacogenetics (PGx), Lung Cancer, Colorectal Cancer, Tumor Markers, CRC, colon, rectal | Additional Technical Information |
| 0051755 | Molar Pregnancy, 16 DNA Markers | MOL PREG, Gestational Trophoblastic Disease | |
| 2004064 | p16 by Immunohistochemistry | Head and Neck Cancer, Cervical Cancer, Bladder Cancer, Ovarian Cancer, Hereditary Nonpolyposis Colorectal Cancer, HNPCC, Colorectal Cancer, Tumor Markers, Pancreatic Cancer, Melanoma, prognostic | Stain and return service only |
| 2008394 | Peutz-Jeghers Syndrome (STK11) Sequencing | STK11, STK11 FGS, hamartomatous polyps, mucocutaneous hypergigmentation | |
| 2008398 | Peutz-Jeghers Syndrome (STK11) Sequencing and Deletion/Duplication | STK11, STK11 FGA, hamartomatous polyps, mucocutaneous hypergigmentation | |
| 2004097 | Placental Alkaline Phosphatase (PLAP) by Immunohistochemistry | Testicular Cancer, Brain Tumors, Tumor Markers, Ovarian Cancer | Stain and return service only |
| 2004525 | Progesterone Receptor (PR) by Immunohistochemistry | Tumor Markers, Breast Cancer, Ovarian Cancer | Stain and return service only |
| 2007991 | Solid Tumor Mutation Panel by Next Generation Sequencing | | Additional Technical Information |
| 2004181 | Vimentin by Immunohistochemistry | Melanoma, Ovarian Cancer, Sarcoma, schwannoma, Endometrial Cancer, mesothelioma | Stain and return service only |
| 2004184 | Wilms Tumor (WT1), N-terminus by Immunohistochemistry | AML, Mesothelioma, Ovarian Cancer, desmoplastic round-cell tumor | Stain and return service only |