Genitourinary Pathology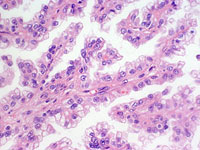 Genitourinary Pathology provides comprehensive consultative expertise and services relating to disorders of the urinary tract and male reproductive organs, including the prostate gland.
For information concerning consultation, please call (801) 581-2507. Surgical Pathology consultations can be electronically ordered using test code
2013263
and sent to the below address:
Surgical Pathology Department
Huntsman Cancer Institute
2000 Circle of Hope, RM 1300
Salt Lake City, UT 84112
Phone: (801) 581-2507
Fax: (801) 581-7035
Please include pertinent clinical history, surgical pathology report(s) and complete case materials.
Test #
Test Name
Test Keywords
Additional Information
2003436
Alpha-1-Fetoprotein (AFP) by Immunohistochemistry
Testicular Germ Cell tumor, Ovarian Germ Cell Tumor, Brain Tumors, Tumor Markers
Stain and return service only
2014499
ATRX by Immunohistochemistry
Prostate Cancer, prostate epithelium, breast, ductal epithelium, gastric mucosa, glial cells
Stain and return service only
0070029
Beta-hCG, Serum Quantitative (Tumor Marker)
Genitourinary Cancer, Gynecologic Cancer, Testicular cancer, Testicular Tumors, Tumor Markers
2000183
Bladder Tumor Associated Antigen
Bladder Cancer, Tumor Markers, Genitourinary Cancer, Bladder Carcinoma, Transtitional cell carcinoma
2003806
CD117 (c-Kit) by Immunohistochemistry
Gastrointestinal Stromal Tumors (GIST), Lung Cancer, Breast Cancer, Melanoma, Mast Cell Disease, Germ Cell Tumor of Testes and Ovary, Brain Tumors, Myelodysplastic Syndromes, Acute Myeloid Leukemia, (AML), Myeloproliferative Neoplasms (MPN), Tumor Markers
Additional Technical Information
Stain and return service only
0093399
Circulating Tumor Cell Count
Colorectal Cancer, Tumor Markers, mestastatic colorectal carcinoma, mestastic breast cancer, mestastic prostate cancer, prognostic
Additional Technical Information
2010229
Cytogenomic Molecular Inversion Probe Array, Copy Number and Heterozygosity Assessment - Formalin-Fixed Paraffin-Embedded (FFPE) Tissue
FFPE ARRAY, array CGH; aCGH; Array Comparative Genomic Hybridization; Chromosomal Microarray; CMA;  CGH; Microarray; Single-nucleotide-polymorphism (SNP) array; Whole Genome Array; tumor; oncology, formalin-fixed, paraffin-embedded, FFPE; tissue
2003848
Cytokeratin 20 (CK 20) by Immunohistochemistry
Tumor Markers, Bladder Cancer, Hereditary Nonpolyposis Colorectal Cancer, HNPCC, Lung Cancer, Colorectal Cancer, Multiple Carcinomas , Merkel Cell, adenomas, gallbladder, bile duct, gastrointestinal adenocarcinoma, ductal cell adenocarcinomas of the pancreas, mucinous ovarian tumors, transitional cell carcinoma, Pancreatic carcinoma, cholangiocarcinoma, Mesothelioma
Stain and return service only
2003851
Cytokeratin 5,6 (CK 5,6) by Immunohistochemistry
Mesothelioma, Bladder Cancer, Prostate Cancer (PSA), Lung Cancer, Tumor Markers
Stain and return service only
2003854
Cytokeratin 7 (CK 7) by Immunohistochemistry
Gastrinoma, Mesothelioma, Bladder Cancer, Ovarian Cancer, Lung Cancer, Tumor Markers, Multiple Carcinomas, Breast Cancer
Stain and return service only
2000623
Cytology, Non-Gynecologic
2003920
Human Chorionic Gonadotropin (Beta-hCG) by Immunohistochemistry
Trophoblastic, germ cell, lung, melanoma, gastrointestinal, ovarian, testicular cancer
Stain and return service only
2003978
Keratin 903 (K903) High Molecular Weight by Immunohistochemistry
Mesothelioma, Bladder Cancer, Prostate Cancer, Breast Cancer
Stain and return service only
2007182
Ki-67 with Interpretation by Immunohistochemistry
0020006
Lactate Dehydrogenase, Serum or Plasma
Bone Cancer, Skin Cancer, Testicular, germ cell tumors
0080281
NMP22®
Genitourinary Cancer, Urothelial carcinoma, bladder cancer
2004058
Octamer Transcription Factor-3 and -4 (Oct 3/4) by Immunohistochemistry
Testicular Cancer
Stain and return service only
2004064
p16 by Immunohistochemistry
Head and Neck Cancer, Cervical Cancer, Bladder Cancer, Ovarian Cancer, Hereditary Nonpolyposis Colorectal Cancer, HNPCC, Colorectal Cancer, Tumor Markers, Pancreatic Cancer, Melanoma, prognostic
Stain and return service only
2004067
p21 (Waf1/Cip 1) by Immunohistochemistry
Pancreatic Cancer, Melanoma, Bladder Cancer, Hereditary Nonpolyposis Colorectal Cancer, HNPCC, Colorectal Cancer, Tumor Markers
Stain and return service only
2004076
P504S (AMACR) by Immunohistochemistry
Prostate Cancer
Stain and return service only
2010102
PCA3 - Prostate Cancer Biomarker by Transcription-Mediated Amplification
Additional Technical Information
2004097
Placental Alkaline Phosphatase (PLAP) by Immunohistochemistry
Testicular Cancer, Brain Tumors, Tumor Markers, Ovarian Cancer
Stain and return service only
2004112
Prostate Specific Antigen by Immunohistochemistry
Prostate Cancer, Tumor Markers
Stain and return service only
2002930
Prostate Specific Antigen, Complexed
Prostate cancer, Tumor marker
0080206
Prostate Specific Antigen, Free Percentage (includes Free PSA and Total PSA), Serum or Plasma
Genitourinary Cancer, Prostate cancer, tumor marker
0070234
Prostate Specific Antigen, Total - Medicare Screening
Genitourinary Cancer, Prostate cancer, tumor maker
0080264
Prostate Specific Antigen, Total with Reflex to Free PSA (includes Free
Genitourinary Cancer, Prostate cancer, tumor marker
0070121
Prostate Specific Antigen, Total, Serum or Plasma
Genitourinary Cancer, Prostate cancer, tumor marker
0098581
Prostate Specific Antigen, Ultrasensitive, Serum or Plasma
Genitourinary Cancer, Prostate cancer, tumor maker
0070120
Prostatic Acid Phosphatase
Prostate cancer, tumor maker
2004079
Prostatic Acid Phosphatase (PAP) by Immunohistochemistry
Prostate Cancer
Stain and return service only
2001181
UroVysion FISH
UF, Bladder Cancer, Tumor Markers, urine