Dermatopathology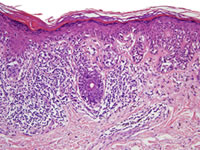 The Dermatopathology Section provides comprehensive consultative expertise and services relating to the disorders of the skin. In addition to consultation, a variety of specialized immunological and molecular techniques are routinely available.
For information concerning consultation, please call (801) 581-2507. Consultations can be sent directly to:
Surgical Pathology Department
Huntsman Cancer Hospital
1950 Circle of Hope, RM N3105
Salt Lake City, UT 84112
Phone: (801) 581-2507 or (801) 584-5078
Fax: (801) 581-7035
Please include pertinent clinical history and surgical pathology report(s).
| Test # | Test Name | Test Keywords | Additional Information |
| --- | --- | --- | --- |
| | Consultation, Dermatopathology | Dermatopathology, melanoma, nevi, atypical nevus, skin cancer | |
| 2003433 | Pan Cytokeratin (AE1,3) by Immunohistochemistry | Glucagonoma, Somatostatinoma, VIPoma, Gastrinoma, Pancreatic Neuroendocrine Tumors (NET), Mesothelioma, Testicular Cancer, Tumor Markers, Synovial Sarcoma, Epithelial Sarcoma, Carcinoma, Adenocarcinoma, Tumor Markers, AE1,3 | Stain and return service only |
| 2002498 | BRAF codon 600 Mutation Detection by Pyrosequencing | Melanoma, Colorectal cancer, Lynch Syndrome, HNPCC, Hereditary Nonpolyposis Colorectal Cancer, Gastrointestinal Adenocarcinoma, Papillary thyroid carcinoma | |
| 2013921 | BRAF V600E Mutation Detection in Circulating Cell-Free DNA by Digital Droplet PCR | | |
| 2012032 | Cancer Panel, Hereditary, Sequencing and Deletion/Duplication, 47 Genes | CANCERPAN, Lynch syndrome, breast cancer, multiple endocrine neoplasia, melanoma, retinoblastoma, paraganglioma, Li-Fraumeni, familial adenomatous polyposis, Peutz-Jegher, HNPCC, inherited cancer, renal cancer, GI cancer, colorectal cancer, NGS cancer panel | |
| 2003493 | Cytokeratin 8,18 Low Molecular Weight (CAM 5.2) by Immunohistochemistry | Carcinoid Tumors, Hepatocellular Carcinoma, Renal Cell, Rhabdoid tumors, Neuroendocrine, Pancreatic Cancer, Pheochromocytoma, Melanoma, Tumor Markers, Multiple Carcinomas, Colon Cancer, Gastrointestinal Cancer | Stain and return service only |
| 2002674 | Gastrointestinal Stromal Tumor Mutation | Gastrointestinal Stromal Tumors (GIST) | Additional Technical Information |
| 2003935 | Melanoma Antibody, HMB45 by Immunohistochemistry | Melanoma, Tumor Markers, HMB45 | Stain and return service only |
| 2007182 | Ki-67 with Interpretation by Immunohistochemistry | | |
| 2004519 | Ki-67, MIB1, by Immunohistochemistry | B-cell Lymphomas, T-Cell Lymphomas, Tumor marker, astrocytoma | Stain and return service only |
| 2002437 | KIT Mutations in AML by Fragment Analysis and Sequencing | Acute Myeloid Leukemia (AML), C-KIT, CKIT | Additional Technical Information |
| 2002695 | KIT Mutations, Melanoma | Melanoma, Tumor Markers, C-KIT, CKIT | Additional Technical Information |
| 0020006 | Lactate Dehydrogenase, Serum or Plasma | Bone Cancer, Skin Cancer, Testicular, germ cell tumors | |
| 2003996 | Melan A by Immunohistochemistry | Melanoma, Tumor Markers | Stain and return service only |
| 2011998 | MITF by Immunohistochemistry | | |
| 2003123 | NRAS Mutation Detection by Pyrosequencing | Colorectal, melanoma, Hereditary Nonpolyposis Colorectal Cancer , HNPCC, Tumor Markers, CRC, colon, rectal | Additional Technical Information |
| 2004064 | p16 by Immunohistochemistry | Head and Neck Cancer, Cervical Cancer, Bladder Cancer, Ovarian Cancer, Hereditary Nonpolyposis Colorectal Cancer, HNPCC, Colorectal Cancer, Tumor Markers, Pancreatic Cancer, Melanoma, prognostic | Stain and return service only |
| 2004067 | p21 (Waf1/Cip 1) by Immunohistochemistry | Pancreatic Cancer, Melanoma, Bladder Cancer, Hereditary Nonpolyposis Colorectal Cancer, HNPCC, Colorectal Cancer, Tumor Markers | Stain and return service only |
| 2013684 | PD-L1 28-8 pharmDx by Immunohistochemistry with Interpretation, nivolumab (OPDIVO) | | |
| 2004127 | S-100 Protein by Immunohistochemistry | Melanoma, Tumor Markers | Stain and return service only |
| 2001766 | S-100B Protein, Serum | Anoxia, Melanoma, Tumor Markers | |
| 2007991 | Solid Tumor Mutation Panel by Next Generation Sequencing | | Additional Technical Information |
| 2004181 | Vimentin by Immunohistochemistry | Melanoma, Ovarian Cancer, Sarcoma, schwannoma, Endometrial Cancer, mesothelioma | Stain and return service only |