Cardiac Pathology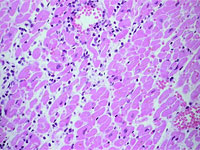 Cardiac Pathology provides comprehensive consultative expertise and services relating to the disorders of the heart and major vessels, including native and transplant heart biopsies (for both adults and children). Our cardiac pathologist is an integral part of the Utah Transplant Affiliated Hospitals (U.T.A.H.) Team and has extensive expertise in rejection criteria.
For information concerning consultation, please call (801) 581-2507. Surgical Pathology consultations can be electronically ordered using test code
2013263
and sent to the below address:
Surgical Pathology Department
Huntsman Cancer Institute
2000 Circle of Hope, RM 1300
Salt Lake City, UT 84112
Phone: (801) 581-2507
Fax: (801) 581-7035
Please include pertinent clinical history, surgical pathology report(s) and complete case materials.
Test #
Test Name
Test Keywords
Additional Information
Consultation, Cardiac Pathology
Heart biopsy, light microscopy, immunofluorescence, electron microscopy
Consultation Collection Instructions

Staining protocols for heart biopsies include:

Light Microscopy: H&E, trichrome stain, PAS, Iron stain and Congo red stain if indicated
Immunofluorescence: IgG, IgM, C3d, C4d, fibrinogen, kappa and lambda
Electron Microscopy: routinely performed in native samples