Breast Pathology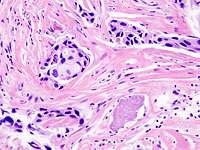 Breast Pathology is a key component in the early diagnosis and treatment of breast disease. ARUP provides pathologists, referring physicians, and patients with expert consultative diagnoses, as well as guidance on appropriate management. We have extensive experience interpreting all types of breast specimens, including surgical pathology specimens, core needle biopsies, and fine needle aspirations of cases ranging from early borderline disease to the most advanced stage cancer. In addition to consultative service, a variety of specialized molecular tests are routinely available.
The Immunohistochemistry Laboratory provides analysis of ER/PR expression,
ERBB2
(HER2-
neu
) overexpression, proliferation, and other markers. This laboratory is an NSABP-approved laboratory for the testing of breast markers.
For information concerning consultation, please call (801) 581-2507. Surgical Pathology consultations can be electronically ordered using test code
2013263
and sent to the below address:
Surgical Pathology Department
Huntsman Cancer Institute
2000 Circle of Hope, RM 1300
Salt Lake City, UT 84112
Phone: (801) 581-2507
Fax: (801) 581-7035
Please include pertinent clinical history, surgical pathology report(s) and complete case materials.
| Test # | Test Name | Test Keywords | Additional Information |
| --- | --- | --- | --- |
| 2003433 | Pan Cytokeratin (AE1,3) by Immunohistochemistry | Glucagonoma, Somatostatinoma, VIPoma, Gastrinoma, Pancreatic Neuroendocrine Tumors (NET), Mesothelioma, Testicular Cancer, Tumor Markers, Synovial Sarcoma, Epithelial Sarcoma, Carcinoma, Adenocarcinoma, Tumor Markers, AE1,3 | Stain and return service only |
| 2014499 | ATRX by Immunohistochemistry | Prostate Cancer, prostate epithelium, breast, ductal epithelium, gastric mucosa, glial cells | Stain and return service only |
| 2003463 | Anti-Human Epithelial Antigen, Ber-EP4 by Immunohistochemistry | Mesothelioma, Lung Cancer, mammary Paget disease, lung adenocarcinomas, trichoepitheliomas, dermatofibromas, basal cell carcinoma, Lung cancer, mesothelioma | Stain and return service only |
| 2003472 | Breast 2 (GCDFP-15) by Immunohistochemistry | Tumor Markers, Mammary carcinoma, Extramammary Pagets disease | Stain and return service only |
| 2011954 | Breast and Ovarian Hereditary Cancer Syndrome (BRCA1 and BRCA2) Sequencing | BRCA FGS, BRACA, HBOC | |
| 2011949 | Breast and Ovarian Hereditary Cancer Syndrome (BRCA1 and BRCA2) Sequencing and Deletion/Duplication | BRCA FGA, BRACA, HBOC | |
| 2003445 | Breast Carcinoma b72.3 by Immunohistochemistry | Mesothelioma, Lung Cancer, Tumor Markers, Adenocarcinoma, Breast carcinoma | Stain and return service only |
| 2003824 | Carcinoembryonic Antigen, Monoclonal (CEA M) by Immunohistochemistry | Mesothelioma, Ovarian Cancer, Colorectal Cancer, Tumor Markers, Cervical Cancer | Stain and return service only |
| 0093399 | Circulating Tumor Cell Count | Colorectal Cancer, Tumor Markers, mestastatic colorectal carcinoma, mestastic breast cancer, mestastic prostate cancer, prognostic | Additional Technical Information |
| 2012769 | Cytochrome P450 2C19, CYP2C19 - 9 Variants | CYP2C19, Pharmacogenetics (PGx), Schizophrenia, Breast Cancer, breast biomarkers | |
| 2014547 | Cytochrome P450 2D6 (CYP2D6) 15 Variants and Gene Duplication | CYP 2D6, Tamoxifen, Pharmacogenetics (PGx), Schizophrenia, Breast Cancer, breast biomarkers | |
| 2000623 | Cytology, Non-Gynecologic | | |
| 0095155 | DNA Content/Cell Cycle Analysis, Miscellaneous | | |
| 2003869 | E-Cadherin by Immunohistochemistry | Mesothelioma, Breast Cancer, Tumor Markers | Stain and return service only |
| 2003872 | Epithelial Membrane Antigen (EMA) by Immunohistochemistry | Adenocarcinoma, anaplastic large cell lymphomas, epitheloid sarcomas, Pagets' disease, plasmacytomas, Pancreatic tumors, Tumor Markers | Stain and return service only |
| 2008603 | ERBB2 (HER-2/neu) Gene Amplification by FISH, Tissue | HER2FISH, Breast Cancer, Tumor Markers, FISH, herceptin, HER2, HER-2, neu, HER2/neu, pathvision, pathvysion | |
| 2007332 | ERBB2 (HER2)(HercepTest) by Immunohistochemistry | HERCEP IHC | |
| 0049178 | ERBB2 (HercepTest®) by Immunohistochemistry, Tissue with Reflex to FISH if 2+ | Gastric, gastrointestinal cancer, tumor marker, pharmacogenetics, Breast Cancer, Tumor Markers, FISH, herceptin, HER2, HER-2, neu, HER2/neu, Pancreatic Cancer, Gastric Cancer, Barrett's Esophagus Cancer, Gastroesophageal Junction Cancer | |
| 0049174 | ERBB2 (HercepTest®) with Interpretation by Immunohistochemistry, Tissue | Gastric, gastrointestinal cancer, tumor marker, pharmacogenetics, Breast Cancer, Tumor Markers, FISH, herceptin, HER2, HER-2, neu, HER2/neu, Pancreatic Cancer, Gastric Cancer, Barrett's Esophagus Cancer, Gastroesophageal Junction Cancer | |
| 2004516 | Estrogen Receptor (ER) by Immunohistochemistry | Ovarian Cancer, Breast Cancer, Tumor Markers | Stain and return service only |
| 0049210 | Estrogen/Progesterone Receptor with Interpretation by Immunohistochemistry | Breast Cancer, Tumor Markers | |
| 2012026 | Hereditary Breast and Ovarian Cancer Panel, Sequencing and Deletion/Duplication | BOCAPAN, Breast Cancer, Tumor Markers, FISH, ATM, BARD1, BRCA1, BRCA2, BRIP1, CDH1, CHEK2, EPCAM, MEN1, MLH1, MSH2, MSH6, MUTYH, NBN, PALB2, PTEN, RAD51C, RAD51D, STK11, TP53 | |
| 2012032 | Hereditary Cancer Panel, Sequencing and Deletion/Duplication | CANCERPAN, Lynch syndrome, breast cancer, multiple endocrine neoplasia, melanoma, retinoblastoma, paraganglioma, Li-Fraumeni, familial adenomatous polyposis, Peutz-Jegher, HNPCC, inherited cancer, renal cancer, GI cancer, colorectal cancer, NGS cancer panel | |
| 2003978 | Keratin 903 (K903) High Molecular Weight by Immunohistochemistry | Mesothelioma, Bladder Cancer, Prostate Cancer, Breast Cancer | Stain and return service only |
| 2007182 | Ki-67 with Interpretation by Immunohistochemistry | | |
| 0049250 | p53 with Interpretation by Immunohistochemistry | Brain Tumors, Head and Neck Cancer, Chronic Lymphocytic Leukemia (CLL), Bladder Cancer, Ovarian Cancer, Hereditary Nonpolyposis Colorectal Cancer (HNPCC), Breast Cancer, Colorectal Cancer, Tumor Markers, Tumor suppressor protein, prognostic indicator, Non-small cell lung cancer, lung cancer | |
| 2010787 | PAX8 by Immunohistochemistry | | PAX8, combined with organ system-specific markers, can collectively serve as a very useful panel to determine the primary site of micropapillary ovarian carcinomas from invasive carcinomas arising from bladder, lung, and breast. |
| 2004525 | Progesterone Receptor (PR) by Immunohistochemistry | Tumor Markers, Breast Cancer, Ovarian Cancer | Stain and return service only |
| 2002722 | PTEN-Related Disorders Sequencing | PTEN FGS, PTEN hamartoma tumor, PHTS, Cowden, CS, Bannayan-Riley-Ruvalcaba, BRRS, Proteus, PS, Proteus-like, PSL, macrocephaly, autism | |
| 2002470 | PTEN-Related Disorders Sequencing and Deletion/Duplication | PTEN FGA, PTEN hamartoma tumor, PHTS, Cowden, CS, Bannayan-Riley-Ruvalcaba, BRRS, Proteus, PS, Proteus-like, PSL, macrocephaly, autism | |
| 2007991 | Solid Tumor Mutation Panel by Next Generation Sequencing | | Additional Technical Information |