Bone and Soft Tissue Pathology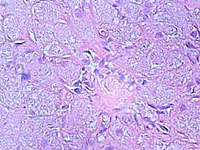 Bone and soft tissue pathology provides comprehensive consultative expertise and services relating to disorders in soft tissue and bone. Because of the complexity and difficulty involved in diagnosing bone and soft tissue disorders, as well as the clinical implications of the diagnoses, expert consultation is extremely important in correctly classifying bone and soft tissue tumors. In addition to consultative services, a variety of specialized molecular tests are routinely available.
For information concerning consultation, please call (801) 581-2507. Consultations can be sent directly to:
Surgical Pathology Department
Huntsman Cancer Hospital
1950 Circle of Hope, RM N3105
Salt Lake City, UT 84112
Phone: (801) 581-2507 or (801) 584-5078
Fax: (801) 581-7035
Please include pertinent clinical history and surgical pathology report(s).
Test #
Test Name
Test Keywords
Additional Information
2003433
Pan Cytokeratin (AE1,3) by Immunohistochemistry
Glucagonoma, Somatostatinoma, VIPoma, Gastrinoma, Pancreatic Neuroendocrine Tumors (NET), Mesothelioma, Testicular Cancer, Tumor Markers, Synovial Sarcoma, Epithelial Sarcoma, Carcinoma, Adenocarcinoma, Tumor Markers, AE1,3
Stain and return service only
2003806
CD117 (c-Kit) by Immunohistochemistry
Gastrointestinal Stromal Tumors (GIST), Lung Cancer, Breast Cancer, Melanoma, Mast Cell Disease, Germ Cell Tumor of Testes and Ovary, Brain Tumors, Myelodysplastic Syndromes, Acute Myeloid Leukemia, (AML), Myeloproliferative Neoplasms (MPN), Tumor Markers
Additional Technical Information
Stain and return service only
2003812
CD138 (Syndecan-1) by Immunohistochemistry
Plasma Cell Dyscrasias, B-Cell Lymphomas, Tumor Markers
Stain and return service only
2003535
CD21 (Dendritic Cell) by Immunohistochemistry
T-Cell Lymphomas, B-Cell Lymphomas, follicular dendritic cells, follicular dendritic sarcoma
Stain and return service only
2003547
CD30 (Ki-1) by Immunohistochemistry
Hodgkin lymphoma, T-cell lymphoma, B-Cell Lymphomas, Tumor Markers, solitary fibrous tumor, sarcoma
Stain and return service only
2003550
CD31 by Immunohistochemistry
Vascular neoplasms
Stain and return service only
2003556
CD34, QBEnd/10 by Immunohistochemistry
B-ALL, T-ALL, Acute myelogenous leukemia, MDS, Tumor Markers
Stain and return service only
2003559
CD35 by Immunohistochemistry
Sarcoma
Stain and return service only
2003589
CD56 (NCAM) by Immunohistochemistry
Brain Tumors, Sarcoma , Rhabdomyosarcomas, T/NK-Cell Lymphomas, Plasma Cell Dyscrasias, Tumor Markers, Lung Cancer
Stain and return service only
2005534
CDK4 by Immunohistochemistry
Sarcoma, liposarcoma
Stain and return service only
2002296
Chromosome Analysis, Solid Tumor
CHR ST, Sarcoma, Ewings
2002298
Chromosome FISH, Interphase
Oncology, Bone Marrow, Ewing Sarcoma, Neuroblastoma, Myelodysplastic, MDS, Chronic Lymphocytic Leukemia (CLL), Sarcoma, Acute Lymphoblastic Leukemia (ALL), Chronic Myelogenous Leukemia (CML), Tumor Markers, Acute Myeloid Leukemia (AML), Myeloproliferative Neoplasms (MPN), Plasma Cell Dyscrasias, Lymphoma Phenotyping, B-Cell Lymphomas
Please specify which FISH probe you wish to order.

2007223
DDIT3 (CHOP) (12q13) Gene Rearrangement by FISH
CHOPFISH, Sarcoma, myxoid liposarcoma, round cell liposarcoma
Additional Technical Information
2003863
Desmin by Immunohistochemistry
Smooth Muscle, Reactive Mesothelial cells, leiomyosarcomas, myogenic sarcomas, rhabdomyosarcoma, PNET, neuroblastoma, GIST, gastrointestinal stromal tumor, Tumor Markers
Stain and return service only
2003872
Epithelial Membrane Antigen (EMA) by Immunohistochemistry
Adenocarcinoma, anaplastic large cell lymphomas, epitheloid sarcomas, Pagets' disease, plasmacytomas, Pancreatic tumors, Tumor Markers
Stain and return service only
2004055
Ewing Sarcoma (O13) by Immunohistochemistry
Ewing Sarcoma, Sarcoma, PNET
Stain and return service only
2007225
EWSR1 (22q12) Gene Rearrangement by FISH
EWSR1, Ewing Sarcoma, Sarcoma, Tumor Markers
Additional Technical Information
2001497
FOXO1 (FKHR) (13q14) Gene Rearrangement by FISH
FKHRFISH, Sarcoma, FOX, FOXO1, 13q14, alveolar rhabdomyosarcoma
Additional Technical Information
2002674
Gastrointestinal Stromal Tumor Mutation
Gastrointestinal Stromal Tumors (GIST)
Additional Technical Information
2003932
Herpes Virus 8 by Immunohistochemistry
Kaposi Sarcoma, B-Cell Lymphomas, B- and T-Cell Markers Lymphoma, Castleman disease, Primary Effusion Lymphomas, Tumor Markers
Stain and return service only
2003448
INI1 (BAF47) by Immunohistochemistry
Head and Neck Cancer, Sarcoma
Stain and return service only
2003016
MDM2 Gene Amplification by FISH
MDM2 FISH, Sarcoma, Tumor Markers, MDM2, Murine Double Minute 2
Additional Technical Information
2004011
Muscle-Specific Actin (MSA) by Immunohistochemistry
Sarcoma, leiomyomas, leiomyosarcomas, rhabdomyosarcomas, some pleomorphic liposarcomas, glomus tumors, desmoid tumors
Stain and return service only
2004017
Myogenin (Myf4) by Immunohistochemistry
Sarcoma, Tumor Markers, leiomyosarcomas, rhabdomyosarcomas
Stain and return service only
2004031
Myoglobin by Immunohistochemistry
Sarcoma, Tumor Markers, rhabdomyosarcomas
Stain and return service only
2004034
Myosin by Immunohistochemistry
Sarcoma, Tumor Markers, rhabdomyosarcomas
Stain and return service only
2004052
Neuron Specific Enolase, Polyclonal (NSE P) by Immunohistochemistry
Neuroendocrine Marker, neuronal or neuroendocrine cells and their tumors: neuroblastomas and retinoblastomas
Stain and return service only
2004091
Protein Gene Product (PGP) 9.5 by Immunohistochemistry
Glucagonoma, Somatostatinoma, VIPoma, Ewing Sarcoma, Gastrinoma, Pancreatic Neuroendocrine Tumors (NET), Carcinoid Tumors, Pancreatic Cancer, Pheochromocytoma, Tumor Markers, neuronal neoplasis
Stain and return service only
2004130
Smooth Muscle Actin (SMA) by Immunohistochemistry
Smooth Muscle Marker
Stain and return service only
2007991
Solid Tumor Mutation Panel by Next Generation Sequencing
Additional Technical Information
2007222
SS18 (SYT) (18q11) Gene Rearrangement by FISH
Additional Technical Information
2004139
Synaptophysin by Immunohistochemistry
Neuroendocrine Marker, Glucagonoma, Somatostatinoma, VIPoma, Insulinoma, Ewing Sarcoma, Gastrinoma, Pancreatic Neuroendocrine Tumors (NET), Carcinoid Tumors, Brain Tumors, Pancreatic Cancer, Pheochromocytoma, Lung Cancer, Tumor Markers
Stain and return service only
2004181
Vimentin by Immunohistochemistry
Melanoma, Ovarian Cancer, Sarcoma, schwannoma, Endometrial Cancer, mesothelioma
Stain and return service only
2004184
Wilms Tumor (WT1), N-terminus by Immunohistochemistry
AML, Mesothelioma, Ovarian Cancer, desmoplastic round-cell tumor
Stain and return service only