Living, Utah Style—Working, ARUP Style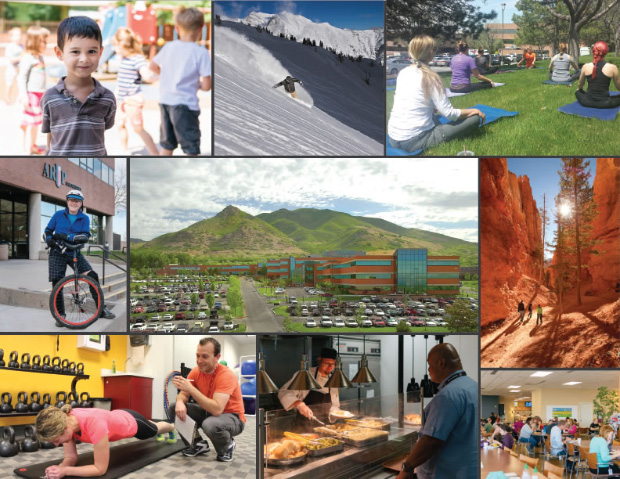 Located in University of Utah's Research Park area, ARUP lies within easy walking distance of the university campus, which is situated in the heart of Salt Lake City, Utah's cosmopolitan capital.
Salt Lake City features gorgeous mountain scenery and is emerging as the economic center of the Rocky Mountain region while maintaining a small-town, down-to-earth charm. Offering adventure, culture, and recreation galore, Utah has something for everyone.
Enjoy hiking, mountain biking, fishing, and camping in local canyons or nearby national parks. Eleven national parks and monuments lie within a one-day drive from Salt Lake City, seven of which are located within Utah.
Play a round of golf at one of 20 area golf courses or attend professional and college sporting events.
Boasting the "greatest snow on earth," Utah averages over 500 inches of dry, powdery snow annually. Downhill skiers and snowboarder can get to one of seven major resorts within 45 minutes of downtown Salt Lake City, while cross-country skiing fans will want to explore the many canyons surrounding Salt Lake or visit one of four cross-country groomed areas, including the impeccable 2002 Winter Olympic cross-country track. Snowmobiling, hot air ballooning, and fly fishing are also available during the winter.
Water-sports fans can experience river rafting on the mighty Colorado and Green rivers or house-boating on fabulous Lake Powell, in addition to camping and boating on Utah's many natural lakes.
Attend a Utah Jazz basketball, Bees AAA baseball, Salt Lake Real soccer, or Grizzlies hockey game.
Utah has a thriving arts community. Plays, music, and dance abound at Utah's world-class symphony, ballet, contemporary dance, opera, and theatre companies, including the Tony Award-winning Utah Shakespeare Festival in Cedar City.
Fast Facts
Population
Average Home Prices (SLC)
Average Apartment Prices (SLC)
Salt Lake City metro: 170,000
Average home price: $284,756
Studio: $495
Salt Lake area: 1.2 million
Average condo price: $186,979
1 bedroom, 1 bath: $645
Wasatch Front: 1.8 million
2 bedroom, 2 bath: $845
General Information
Tourism
Weather
Education
Local Magazines & Newspapers