ARUP Internship Information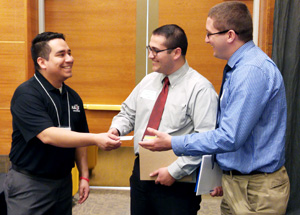 An ARUP internship is defined as a supervised work opportunity, generally occurring during the summer months, that fulfills an academic course requirement as the student works towards an undergraduate or graduate academic degree. An intern receives course credit through his or her academic institution and may be paid or unpaid depending on the budget for the current fiscal year.
ARUP was founded to support education, and we have always maintained education as a major part of our mission. ARUP employees are professionals with a science degree and one or more professional certifications proving competence in their specific laboratory science discipline; they perform highly complex and unique medical tests for patients throughout the country. ARUP recognizes the value that interns can bring to our organization in terms of enthusiasm and knowledge of recent developments in their prospective disciplines; however, internships are limited to business areas of the company and those areas of the laboratory where samples are reanalyzed for research purposes because of regulatory requirements.
Available internship positions will be posted on ARUP Laboratories Careers page in January, and applications will be evaluated beginning March 1.
If you meet the above requirements, please view our open positions to find information on available internships for the following summer and submit an application for the position of your choice. Please also email a current resume and contact name from your college or university to Karen McRae.
If you have additional questions, please contact Karen McRae in the ARUP Institute for Learning at (800) 242-2787, ext. 3615, or by email at karen.mcrae@aruplab.com.