Human Microbiome in Health and Disease
Human Microbiome in Health and Disease
Thursday, March 30, 2017, 11 a.m.–Noon MT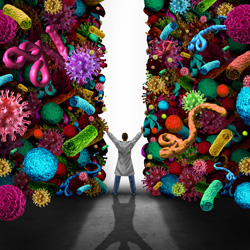 Microorganisms have long been known to play an essential role in digestion and gut physiology. The advent of next-generation sequencing (NGS) and advanced informatics has accelerated research in this area, revealing complex signaling networks between microbes and their hosts beginning before birth. The role of the microbiome in health and disease is the focus of research that spans many disciplines, from nutrition and immunology to cardiology and neuroscience.
This presentation will review basic concepts of microbiome science, with a focus on advancements that suggest important causal relationships between the human microbiome and disease.
Learning Objectives
Discuss the sequence of events leading to the establishment of a healthy microbiome during infant development.
Compare the role of prebiotics and probiotics in establishing and maintaining healthy microbiomes.
List four human diseases for which microbiome disturbances have been implicated as a causal factor.
Describe the role and challenges of NGS in microbiome research.
Discuss the indications and effectiveness of fecal transplantation in the control of Clostridium difficile infection.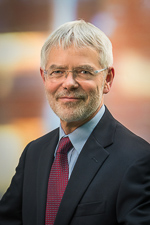 David R. Hillyard, MD
Medical Director, Molecular Infectious Diseases
Dr. Hillyard is a professor of pathology at the University of Utah School of Medicine. He received his MD from the Columbia University College of Physicians and Surgeons. His training was in anatomic and clinical pathology, with fellowships in medical microbiology and microbial genetics.
Available Continuing Education Credits for this Webinar
The program has been approved for one (1) contact hour through ARUP, which is approved as a provider of continuing education programs in the clinical laboratory sciences by the American Society for Clinical Laboratory Sciences (ASCLS) P.A.C.E.® Program.
This event is also approved for one (1) CEU of Florida credit and meets the requirements for the Microbiology/Mycology/Parasitology category.

Register Link:
https://engage.vevent.com/rt/aruplaboratories~03302017
Handout Link:
https://www.aruplab.com/files/resources/events/Human Microbiome in Health and Disease.final.mac.pdf