ARUP Connect
Secure Client-Information System
ARUP Connect is a secure online resource that assists registered clients with management of their referral testing. Through ARUP Connect's Order Management applications, clients have access to ARUP's test directory, patient orders, and test results. Clients can also leave comments or special instructions for the testing lab, and create detailed packing lists. ARUP Connect also allows clients to transmit patient data required by public health agencies, use ARUP's secure file transfer system to securely retrieve documents containing protected health information (PHI), receive reports and notifications, and order supplies through ARUP Connect.
New Features
Order Status and Results: Secure Test Results Access for Physicians
All ARUP clients can now share test results directly with physicians through Order Status and Results in ARUP Connect.
Features include:
Secure management of physician access through Connect's existing account-management system
Secure, password-protected access to test-related information
Single-user access per NPI; multi-user access coming in October 2015
Limited view of test results associated with each participating physician's NPI
Access to information for pending and complete orders:

Monitor the status of pending orders
View, print, and download new test results
Search for patients, view patients' test history, and print or download reports
To learn more and for technical requirements, contact Parker Davis at (800) 242-2787, ext. 3324.
New Test Report Format in Order Management
ARUP Connect now features a new test report format in Order Management. The format improves clients' ability to efficiently process test results through print, download,fax, and scan.
Highlights of changes include:
Patient name and demographic informationdisplayed in a single table at the top of the chart in bold and large font, improving patient identification.
Test results organized by ordered test, followed by chartable components for efficient processing of outcomes.
An easy-to-read font used throughout the report.
Interpretive information located immediately below test results, eliminating the need to search through the report or flip back and forth between test results and comments.
Essential flagsreduced, improving overall readability and lowering potential for misunderstanding flag meaning.
Important specimen processing dates, including collected, verified, and received,located at the end of the report in an easy-to-read reference table.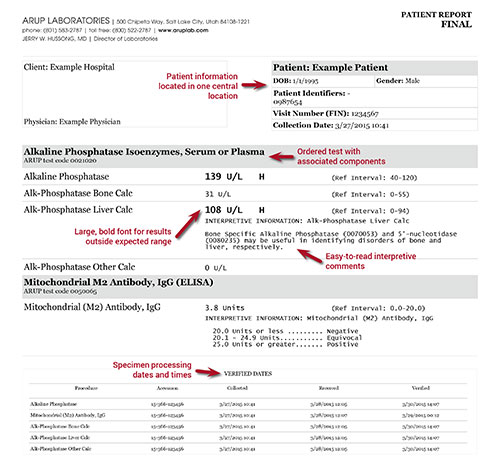 For more information about Order Management, visit this page.
Enhanced Reports
For more than 100 specialty tests, these visually appealing and comprehensive result reports are clinically informative and effectively display complex data. Historical resulting is available on some test reports, displaying detailed graphics and images. Examples include cytogenics analyses, immunodermatology tests, and pain management panels. These reports are delivered through ARUP Connect (or credentialed via secure internet portal), which is key to getting these reports into the hands of physicians.
More information about enhanced reports is available here.
Registering for Connect
A designated site administrator within your organization is responsible for creating and managing ARUP Connect accounts. Please contact ARUP Client Services with your ARUP client identification number to learn who your designated site administrator is.
If your organization does not have a designated site administrator assigned, please take the following steps:
Determine who within your organization will function as the designated site administrator.