Breast Cancer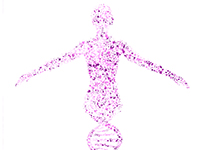 ARUP's breast cancer test menu now includes the
Prosigna Breast Cancer Prognostic Gene Signature
(
ARUP test code 2010248
), which is FDA 510(k) cleared for node-negative (stage I or II) or node-positive (stage II), hormone receptor-positive (HR+) breast cancer patients, and provides fast and accurate assessment of a patient's risk of recurrence at 10 years if given endocrine therapy alone.
Dr. Philip Bernard
, a co-inventor of the test and medical director of molecular oncology diagnostics at ARUP Laboratories, oversees the test and can provide additional consultation through ARUP Client Services. Visit ARUP's
Prosigna page
for more information.
Visit the free BRCA Mutation Database for information on BRCA1 and BRCA2 gene mutations and their impact on risk of developing breast cancer, ovarian cancer and certain other cancers.
| Test # | Test Name | Test Keywords | Additional Information |
| --- | --- | --- | --- |
| 2014499 | ATRX by Immunohistochemistry | Prostate Cancer, prostate epithelium, breast, ductal epithelium, gastric mucosa, glial cells | Stain and return service only |
| 2003472 | Breast 2 (GCDFP-15) by Immunohistochemistry | Tumor Markers, Mammary carcinoma, Extramammary Pagets disease | Stain and return service only |
| 2012026 | Breast and Ovarian Hereditary Cancer Panel, Sequencing and Deletion/Duplication, 20 Genes | BOCAPAN, Breast Cancer, Tumor Markers, FISH, ATM, BARD1, BRCA1, BRCA2, BRIP1, CDH1, CHEK2, EPCAM, MEN1, MLH1, MSH2, MSH6, MUTYH, NBN, PALB2, PTEN, RAD51C, RAD51D, STK11, TP53 | |
| 2011954 | Breast and Ovarian Hereditary Cancer Syndrome (BRCA1 and BRCA2) Sequencing | BRCA FGS, BRACA, HBOC | |
| 2003445 | Breast Carcinoma b72.3 by Immunohistochemistry | Mesothelioma, Lung Cancer, Tumor Markers, Adenocarcinoma, Breast carcinoma | Stain and return service only |
| 0080392 | Cancer Antigen 27.29, Serum | Breast Cancer | |
| 0080464 | Cancer Antigen-Breast (CA 15-3), Serum or Plasma | Breast Cancer | |
| 2010757 | Cancer Panel, Hereditary, Deletion/Duplication, 46 Genes | CANCER DD, ALK, APC, BAP1, BMPR1A, CDH1, CDK4, CDKN1B, CDKN2A, EPCAM, FH, FLCN, MAX, MEN1, MET, MLH1, MSH2, MSH6, MUYTH, NF2, PHOX2B, PTEN, RB1, RET, SDHAF2, SDHB, SDHC, SDHD, SMAD4, SMARCB1, STK11, SUFU, TMEM127, TP53, TSC1, TSC2, VHL, Lynch syndrome, breast cancer, multiple endocrine neoplasia, melanoma, retinoblastoma, paraganglioma, Li-Fraumeni, familial adenomatous polyposis, Peutz-Jegher, HNPCC, inherited cancer, renal cancer, GI cancer, colorectal cancer | |
| 2012032 | Cancer Panel, Hereditary, Sequencing and Deletion/Duplication, 47 Genes | CANCERPAN, Lynch syndrome, breast cancer, multiple endocrine neoplasia, melanoma, retinoblastoma, paraganglioma, Li-Fraumeni, familial adenomatous polyposis, Peutz-Jegher, HNPCC, inherited cancer, renal cancer, GI cancer, colorectal cancer, NGS cancer panel | |
| 2003824 | Carcinoembryonic Antigen, Monoclonal (CEA M) by Immunohistochemistry | Mesothelioma, Ovarian Cancer, Colorectal Cancer, Tumor Markers, Cervical Cancer | Stain and return service only |
| 0080080 | Carcinoembryonic Antigen, Serum | Breast Cancer, Gastrointestinal Cancer, Genitourinary Cancer, Gynecologic Cancer, Lung Cancer, Tumor Markers | |
| 0093399 | Circulating Tumor Cell Count | Colorectal Cancer, Tumor Markers, mestastatic colorectal carcinoma, mestastic breast cancer, mestastic prostate cancer, prognostic | Additional Technical Information |
| 2012769 | Cytochrome P450 2C19, CYP2C19 - 9 Variants | CYP2C19, Pharmacogenetics (PGx), Schizophrenia, Breast Cancer, breast biomarkers | |
| 2014547 | Cytochrome P450 2D6 (CYP2D6) 15 Variants and Gene Duplication | CYP 2D6, Tamoxifen, Pharmacogenetics (PGx), Schizophrenia, Breast Cancer, breast biomarkers | |
| 2010229 | Cytogenomic Molecular Inversion Probe Array, Copy Number and Heterozygosity Assessment - Formalin-Fixed Paraffin-Embedded (FFPE) Tissue | FFPE ARRAY, array CGH; aCGH; Array Comparative Genomic Hybridization; Chromosomal Microarray; CMA;  CGH; Microarray; Single-nucleotide-polymorphism (SNP) array; Whole Genome Array; tumor; oncology, formalin-fixed, paraffin-embedded, FFPE; tissue | |
| 2000443 | Cytology, Fine Needle Aspirate | Breast Cancer, mass lesion, malignancy, cancer, infection, lymph node, salivary gland, thyroid | |
| 2000623 | Cytology, Non-Gynecologic | | |
| 0095155 | DNA Content/Cell Cycle Analysis, Miscellaneous | | |
| 2003869 | E-Cadherin by Immunohistochemistry | Mesothelioma, Breast Cancer, Tumor Markers | Stain and return service only |
| 2008603 | ERBB2 (HER-2/neu) Gene Amplification by FISH, Tissue | HER2FISH, Breast Cancer, Tumor Markers, FISH, herceptin, HER2, HER-2, neu, HER2/neu, pathvision, pathvysion | |
| 0049178 | ERBB2 (HercepTest®) by Immunohistochemistry, Tissue with Reflex to FISH if 2+ | Gastric, gastrointestinal cancer, tumor marker, pharmacogenetics, Breast Cancer, Tumor Markers, FISH, herceptin, HER2, HER-2, neu, HER2/neu, Pancreatic Cancer, Gastric Cancer, Barrett's Esophagus Cancer, Gastroesophageal Junction Cancer | |
| 0049174 | ERBB2 (HercepTest®) with Interpretation by Immunohistochemistry, Tissue | Gastric, gastrointestinal cancer, tumor marker, pharmacogenetics, Breast Cancer, Tumor Markers, FISH, herceptin, HER2, HER-2, neu, HER2/neu, Pancreatic Cancer, Gastric Cancer, Barrett's Esophagus Cancer, Gastroesophageal Junction Cancer | |
| 0049210 | Estrogen/Progesterone Receptor with Interpretation by Immunohistochemistry | Breast Cancer, Tumor Markers | |
| 2004672 | HER-2/neu Quantitative by ELISA | Ovarian Cancer, Breast Cancer, Tumor Markers | |
| 2003978 | Keratin 903 (K903) High Molecular Weight by Immunohistochemistry | Mesothelioma, Bladder Cancer, Prostate Cancer, Breast Cancer | Stain and return service only |
| 2007182 | Ki-67 with Interpretation by Immunohistochemistry | | |
| 0049250 | p53 with Interpretation by Immunohistochemistry | Brain Tumors, Head and Neck Cancer, Chronic Lymphocytic Leukemia (CLL), Bladder Cancer, Ovarian Cancer, Hereditary Nonpolyposis Colorectal Cancer (HNPCC), Breast Cancer, Colorectal Cancer, Tumor Markers, Tumor suppressor protein, prognostic indicator, Non-small cell lung cancer, lung cancer | |
| 2010787 | PAX8 by Immunohistochemistry | | PAX8, combined with organ system-specific markers, can collectively serve as a very useful panel to determine the primary site of micropapillary ovarian carcinomas from invasive carcinomas arising from bladder, lung, and breast. |
| 2008377 | Peutz-Jeghers Syndrome (STK11) Deletion/Duplication | STK11, STK11 DD, hamartomatous polyps, mucocutaneous hypergigmentation | |
| 2008394 | Peutz-Jeghers Syndrome (STK11) Sequencing | STK11, STK11 FGS, hamartomatous polyps, mucocutaneous hypergigmentation | |
| 2008398 | Peutz-Jeghers Syndrome (STK11) Sequencing and Deletion/Duplication | STK11, STK11 FGA, hamartomatous polyps, mucocutaneous hypergigmentation | |
| 2004525 | Progesterone Receptor (PR) by Immunohistochemistry | Tumor Markers, Breast Cancer, Ovarian Cancer | Stain and return service only |
| 2007991 | Solid Tumor Mutation Panel by Next Generation Sequencing | | Additional Technical Information |