Prosigna: A New Way of Looking at Breast Cancer
Based on the PAM50 gene signature, Prosigna uses the gene expression profile of cells found in breast cancer tissue to assess a patient's risk of distant recurrence of disease. The Prosigna assay:
Is FDA 510(k) cleared for node-negative (stage I or II) or node-positive (stage II), hormone receptor-positive (HR+) breast cancer patients
Provides fast and accurate individualized assessment of a patient's risk of recurrence at 10 years if given endocrine therapy alone
Utilizes proven clinical and analytical capabilities
Offers improved prognostic value over other breast cancer tests on the market
"This is the next generation of diagnostics, which embraces both the molecular and anatomic features of a tumor to provide a more accurate estimate of risk," said Philip Bernard, MD, ARUP Laboratories' medical director and associate professor in the Department of Pathology at the University of Utah.
Prosigna and ARUP
ARUP is a licensed provider of the Prosigna assay. The University of Utah and the Huntsman Cancer Institute in Salt Lake City were integral in developing the 50-gene expression signature for prognosis and prediction to therapies. Dr. Philip Bernard, a co-inventor of the test and medical director of molecular oncology diagnostics at ARUP Laboratories, oversees the test and can provide additional consultation through ARUP Client Services.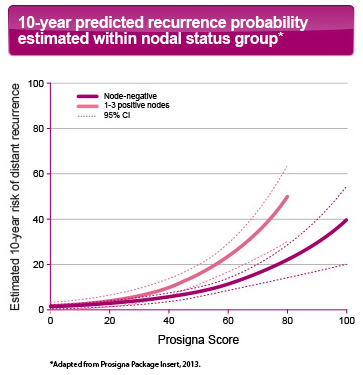 Reimbursement Information
Please contact Kendall Miller, ARUP technical product manager, or Brandie Arko, ARUP technical product manager, if you have questions or concerns regarding reimbursement.
Resources