United States and Canadian Academy of Pathology (USCAP)
Trusted Pathologists. Invaluable Answers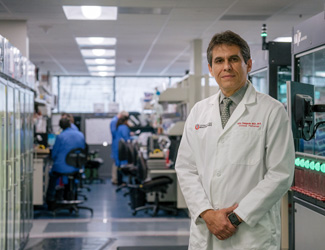 ARUP's oncology test menu offers testing that answers urgent clinical questions regarding diagnosis/prognosis, monitoring, and pharmacogenomics.
Services include:
Immunohistochemistry
Hematologic flow
Hematopathology
Molecular diagnostics
Next-generation sequencing
Pathology consultation service
---
ARUP Testing Highlights
Digital scan and return service for immunohistochemistry testing
Visit ARUP in
booth #701

and enter to win a copy of the two-volume tenth edition set of Rosai and Ackerman's Surgical Pathology.*

*Prize will be awarded after the show.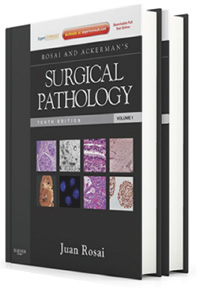 USCAP 2017 Poster Presentations
Monday, March 6, 2017
[2053] Impact of Consensus Conference Review on Diagnostic Disagreements in the Evaluation of Cervical Biopsies
Authors: Lester Layfield, Richard D Hammer, Shellaine R Frazier, Magda Esebua, William W Bivin, Katsiaryna Laziuk, Van T Nguyen, Eric Johannesen, Robert L Schmidt
Date/Time: Monday, March 6, 2017 - 1:00 pm
Session Info: Poster Session II #291, Monday Afternoon
Tuesday, March 7, 2017
[1386] Correlation of Flow Cytometric, Cytogenetic, and NGS Testing in Chronic Myelomonocytic Leukemia
Authors: Anna Dolezal, David W Bahler, Mohamed Salama
Date/Time: Tuesday, March 7, 2017 - 8:15 am
Session Info: Proffered Papers: SECTION C, Tuesday Morning
[1477] NPM1 Mutations Are a Secondary Genetic Event in NPM1-Mutated Acute Myeloid Leukemia
Authors: Jay L Patel, Jonathan Schumacher, Philippe Szankasi, Kimberly Frizzell, Shelly Sorrells, Wei Shen, Adam Clayton, Rakhi Jattani, Todd W Kelley
Date/Time: Tuesday, March 7, 2017 - 8:45 am
Session Info: Proffered Papers: SECTION C, Tuesday Morning
[958] Interobserver Reproducibility of the Paris System for Reporting Urinary Cytology
Authors: Lester Layfield, Theresa Long, Robert L Schmidt, Magda Esebua, Shellaine R Frazier, Tamar Giorgadze
Date/Time: Tuesday, March 7, 2017 - 9:30 am
Session Info: Poster Session III #142, Tuesday Morning
[1637] De Novo Immune Complex Deposition in Kidney Allografts
Authors: Isaac E Lloyd, Faris Ahmed, Monica P Revelo, Mazdak Khalighi
Date/Time: Tuesday, March 7, 2017 - 9:30 am
Session Info: Poster Session III #217, Tuesday Morning
Wednesday, March 8,2017
[2021] Antinuclear Antibody (ANA) 2016 Statistical Analysis. A Comparison of Laboratory Practice and Result Reporting Between the US and International Labs
Authors: Richard J Baltaro, Gyorgy Abel, Christine Bashleben, Jonathan Genzen, Qing H Meng, David L Murray, Mu Shan, Mohammad Q Ansari
Date/Time: Wednesday, March 8, 2017 - 9:30 am
Session Info: Poster Session V #302, Wednesday Morning
[464] Do Liquid-Based Preparations of Thyroid Fine Needle Aspiration Specimens Perform Differently Than Conventional Preparations in the Diagnosis of Thyroid Lesions? Observations from the College of American Pathologists Nongynecologic Cytopathology Education (CAP NGC) Program
Authors: Z Laura Tabatabai, Daniel Kurtycz, Ritu Nayar, Rhona J Souers, Guliz Barkan, Paul Staats, Benjamin L Witt, Andrew H Fischer
Date/Time: Wednesday, March 8, 2017 - 1:00 pm
Session Info: Poster Session VI #58, Wednesday Afternoon
USCAP 2017 Medical Director Speaking Engagements
Sunday March 5th
Dr. Larissa Furtado (moderator)
Mission Control-The Value of Cancer Protocols, Staging Manuals, and the Key Revisions to Select Tumor Sites
8:30am-12:00pm
Dr. Todd Kelley (speaker)
Association for Molecular Pathology Companion Meeting
7:30pm-10:30pm
8:45pm Molecular Studies Myeloid Neoplasms
http://www.uscap.org/meetings/detail/2017-annual-meeting/
Henry B. Gonzalez Convention Center