Annual Clinical Genetics Meeting (ACMG)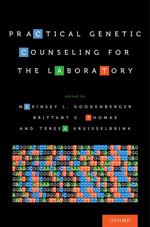 ARUP Laboratories' Genetics Division offers a comprehensive testing menu, including biochemical, molecular, and cytogenetics, as well as maternal serum screening.
Come see us in booth #706 and register to win one of two copies of the NEW essential manual for the future of genetic counseling: Practical Genetic Counseling for the Laboratory (with contributing author, ARUP's own Danielle LaGrave, MS, CGC).
---
Stop by ARUP's booth #706 and pick up a copy of Magnify, ARUP's biannual magazine, which focuses on the art and science of diagnostic medicine. Stories in the current issue include: When Heartache Propels Progress: Newly Arrived and Fighting for Life—A Newborn Genetic Test Searches for Answers; Advancing Precision Medicine through Pharmacogenetics—Test Prevents Adverse Drug Reactions; Walk the Talk—ARUP Provides (Free) Education Worldwide.
Posters and Presentations
Andersen EF, Toydemir R, Hong B—Poster
Paulraj P, Diamond S, Razzaqi F, Ozeran F, Andersen EF, Toydemir R, Hong B. Three pediatric acute myeloid leukemia patients with t(7;21)(p22;q22) and utility of genomic microarray analysis in detecting additional clonal aberrations.
Toydemir R—Poster
Paulraj P, Palumbos J, Openshaw A, Carey J, Toydemir R. Interstitial deletion 6q25.2q26 associated with severe phenotypic features, congenital anomalies and global developmental delay.
Yuzyuk T, De Biase I—Poster
Gasparini J, Ortega A, Yuzyuk T, De Biase I. Perceived self-efficacy of genetic counselors as teachers.
Pham H, Pont-Kingdon G, Lyon E—Poster
Poster Brown S, Pham H, Pont-Kingdon G, Lyon E. Additional testing can aid interpretation of SMN1 and SMN2 copy number for patients with gene conversions.
Ha Y, Pham HT, Pont-Kingdon G, Lyon E—Poster
Poster Ha Y, Pham HT, Sibio S, Monds C, Pitchford J, Braten B, Meadows C, Miller C, Pont-Kingdon G, Lyon E. Implementation of the cystic fibrosis 165-pathogenic variant panel by QuantStudio™ 12K Flex OpenArray®.
Millson A, Morris AD, Paul EG, Lamb AN, Lyon E—Poster
Poster Millson A, Xiong W, Mikelson A, Morris AD, Paul EG, Lachowsky DR, LaGrave D, Lamb AN, Lyon E, Kusukawa N. Noninvasive prenatal testing for aneuploidy.
Andersen EF—Poster
Poster Herriges JC, Brown S, Ozmore J, Janze A, Meck J, Andersen EF. The first clinical reports of 14q32 deletions that encompass DICER1 and are associated with DICER1-related tumor development.
http://www.acmgmeeting.net/acmg2017
Phoenix Convention Center