Annual Clinical Genetics Meeting (ACMG)
ARUP Laboratories' Genetics Division offers a comprehensive testing menu, including biochemical, molecular, and cytogenetics, as well as maternal serum screening.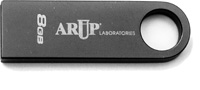 Free 8GB USB Drive
Scan your badge at our booth and get a free 8GB USB drive (while supplies last).
---
ARUP's genetic counselors have launched their own website. Discover what our genetic counselors are able to do for our clients and access their blogs on genetic topics.
www.aruplab.com/geneticcounseling
---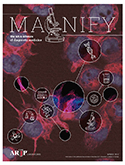 Stop by ARUP's booth #707 and pick up a copy of Magnify, ARUP's biannual magazine, which focuses on the art and science of diagnostic medicine. Stories in the current issue include: When Heartache Propels Progress: Newly Arrived and Fighting for Life—A Newborn Genetic Test Searches for Answers; Advancing Precision Medicine through Pharmacogenetics—Test Prevents Adverse Drug Reactions; Walk the Talk—ARUP Provides (Free) Education Worldwide.
Posters and Presentations
Toydemir R—Poster
Paulraj P, Tvrdik T, Serrano M, Toydemir R. Copy number variations involving RAF1 gene at 3p25.2: Is there a specific phenotype?
Toydemir RM—Poster
Hilton BA, Palumbos JC, Viskochil DH, Toydemir RM. Interstitial 7q duplication of 15.5 Mb associated with mild dysmorphic features, speech delay and developmental delay.
Andersen E, Lamb A—Presentation
Riggs ER, Nelson T, Ackley T, Andersen E, Bunke B, Collins C, Collinson M, Fan Y, Glassford M, Haglund-Hazy L, Lamb A, Li G, Liu Y, Meck J, Neufeld-Kaiser W, Su M, Tayeh M, Martin CL. Copy number variant discrepancy resolution using the ClinGen dosage sensitivity map results in updated clinical interpretations in ClinVar.
http://www.acmgmeeting.net/acmg2018
Charlotte Convention Center