Client Education
Client Site Education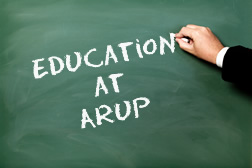 ARUP medical directors, staff, and consultants are available and committed to providing continuing education to our valued clients. Our presenters have developed lectures and presentations in most disciplines of laboratory medicine and management, which are available for our clients as either in-person presentations or by live webinar delivery.
Additionally, all ARUP Institute for Learning self-directed education is available for group viewing and can be offered for continuing education credits through prior arrangement with the institute. Please contact Hollie Banks at (800) 242-2787, ext. 3952 for more information.
Service Excellence and Leadership Training
The Institute for Learning provides service excellence, leadership, and communication training programs to assist clients with developing the customer-driven culture necessary for succeeding in the competitive laboratory industry. The training can be delivered as a comprehensive two-year curriculum or as individual courses designed to meet specific needs.
The following is a list of current (as of January 2016) program offerings and course titles, with additional courses available based on client needs:
Laboratory Business Conference
On an annual basis, the Institute for Learning hosts an on-site training event at ARUP Laboratories in Salt Lake City, UT that aims to support our clients by providing tools and actionable intelligence as they develop new business strategies for their own laboratory operations. Hospital laboratories are vital, if not mission critical, as hospital systems and community hospitals face healthcare reform, market competitiveness, and shifting economic factors, as well as the challenge of providing basic laboratory services while maintaining a breadth of testing capabilities. This conference allows ARUP to facilitate meaningful networking opportunities along with the exchange of laboratory development and growth strategies.
Other Laboratory Conferences Sponsored by ARUP
Speaker Sponsorship for Conferences
In conjunction with ARUP's mission to provide educational opportunities to industry professionals, the ARUP Institute for Learning supports local, regional, and national professional organizations by sponsoring speakers for educational conferences. ARUP medical directors, staff, and consultants are available to provide presentations on most disciplines of laboratory medicine and management.
Professional organizations and clients may request ARUP Institute for Learning sponsorship by contacting their ARUP account executive.